Archive for September, 2011

Sales Funnel or Sales Process refers to a systematic approach to selling a product or service. [more on sales process] Whether you run a small business or part of a large corporation, chances are, you heard about Sale Funnel. Understanding & analyzing your sales performance from a Funnel point of view is a great way […]
Continue »
Lets just say, you run a nice little orange shop called, "Joe's Awesome Oranges". And being an Excel buff, you record the daily sales in to a workbook, in this format. After recording the sales for a couple of months, you got a refreshing idea, why not analyze the sales between any given 2 dates? […]
Continue »
Last week, we learned how to visualize Suicides vs. Murders data using Interactive charts in Excel. William, one of our readers, took this technique and applied it to Stocks. He emailed me because he has some formula issues with the stock data. Once I solved the problem, I asked him, "Can I share this with […]
Continue »

Pivot Tables are an integral part of Excel based reports. So it is no surprise that many of create multiple pivot reports in one Excel workbook. So when the underlying data changes, we often spend time refreshing individual pivot tables. Today, I want to share a quick tip about how to refresh all pivot tables […]
Continue »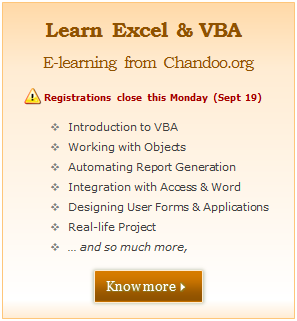 Hi everyone, I have a quick announcement for you.
Registrations for our VBA class will be closing in a few hours
As you may know, we have re-opened the doors for our VBA Class on September 5th. This program is aimed at beginners & intermediate level users. The aim of our VBA class is to make you awesome in Excel & VBA.
We will be closing registrations for this program in few more hours (exactly at 11:59 PM, Pacific time, on 16th September, 2011)
Click here to join our VBA Class now.
Continue »
Hello Data Junkies & Chart Lovers, I have a fun announcement for you. If you like to analyze data and present results in charts, then you can win up to $3000 in prizes by participating in Microsoft's BI DataMashUp Contest. The contest is on from September 8th and runs until 28th. How to Participate in […]
Continue »
Do you enjoy printing complex spreadsheets with multiple pages with different print ranges and different setups on each page for different people who have different requirements ?
If the answer is No…
This post may save your day and change your life.
Continue »
First a Quick Announcement: Our VBA Class enrollments will be closed this Friday (Sep 16). If you want to learn VBA & Excel, please consider joining our course. More than 120 students have already joined us in the second batch and are learning VBA as you read this. Click here to learn more about the VBA Classes and join us.
Moving on…,
As you may know, Chandoo.org offers quite a few Online Excel training programs. Over the last few weeks, many of you have emailed us and asked which training program is best for your situation. This got me thinking. "It should be easy for YOU to know what is best."
So today morning, I locked my office room and made a beautiful Excel workbook that asks you only 2 questions and tells you which training programs are best for you. Try it here.
Continue »
Over at PTS Blog, my dear friend & charting guru, Jon Peltier has an interesting post on using dot plots to visualize Murders & Suicides data by US States.
Not that murders & suicides fascinate me, but I wanted to play with this data myself and see how we can visualize it. So I emailed Jon and asked him to share the raw data. Being a lovely chap Jon is, he immediately sent me the data. So here we are, playing with gory data on a Friday.
Suicides & Murders by US States – An Interactive Excel Chart
You can see a demo of the chart I came up with above. Read on to learn how this chart is constructed.
Continue »
This article is part of our VBA Crash Course. Please read the rest of the articles in this series by clicking below links.
In the part 5 of our VBA Crash Course, let me share you my tips for mastering Excel VBA.
A warning before jumping in to the tips: I am not a VBA expert. I am a learner, just like you. I find VBA quite interesting language to learn and explore. These tips are based on what I have learned writing VBA (and VB code) in the last 12 years.
Continue »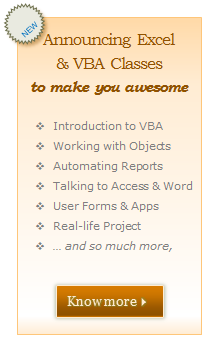 Dear Friends & Readers of Chandoo.org
I am happy to announce that our Online VBA Training Program is now open for your consideration. Please read this short post to understand the benefits of this program and how you can join. Click here to join our class, if you are ready.
What is this VBA Class?
VBA Class is a structured and comprehensive online training program for learning Microsoft Excel VBA (Macros). It is full of real world examples & useful theory.
The aim of VBA Classes is to make a beginner an expert in VBA.
Continue »
In part 4 of our VBA Crash Course, we are going to create our very first VBA application using what we learned so far.
We will take the "We Are Nuts" example and create a daily sales tracker application using all the things you have learned so far. You can download the example VBA workbook and play with it to learn better.
Continue »