Recently, I saw this chart on Economist website.
It is trying to depict how various cities rank on livability index and how they compare to previous ranking (2014 vs 2009).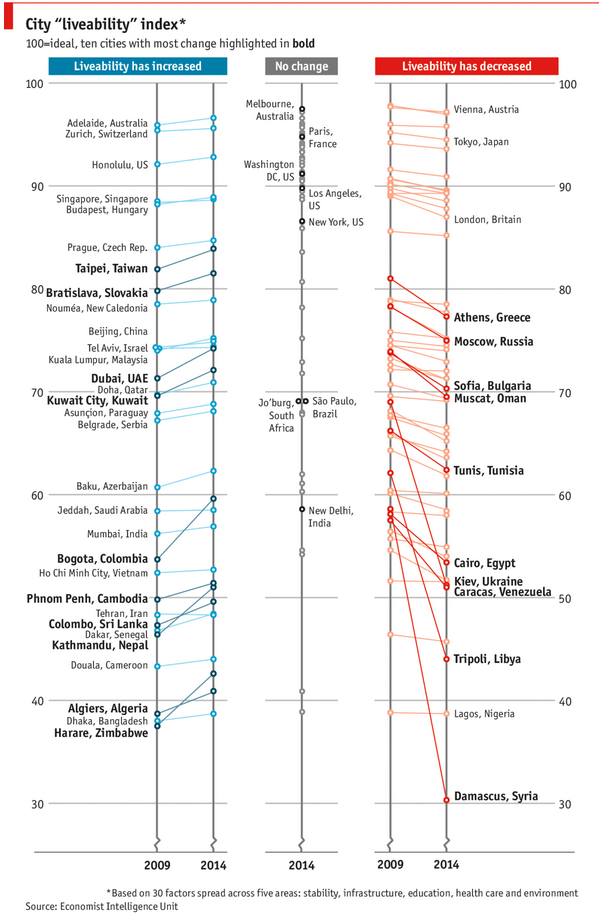 As you can see, this chart is not the best way to visualize "Best places to live".
Few reasons why,
The segregated views (blue, gray & red) make it hard to look for a specific city or region
The zig-zag lines look good, but they are incredibly hard to understand
Labels are all over the place, thus making data interpretation hard.
Some points have no labels (or ambiguous labels) leading to further confusion.
After examining the chart long & hard, I got thinking.
Its no fun criticizing someones work. Creating a better chart from this data, now thats awesome.
So I went looking for the raw data behind this graphical mess. Turns out, Economist sells this data for a meager price of US $5,625.
Alas, I was saving my left kidney for something more prominent than a bunch of raw data in a workbook. May be if they had sparklines in the file…
So armed with the certainty that my kidney will stay with me, I now turned my attention to a similar data set.
I downloaded my website visitor city data for top 100 cities in September 2014 & September 2013 from Google Analytics.
And I could get it for exactly $0.00. Much better.
This data is similar to Economist data.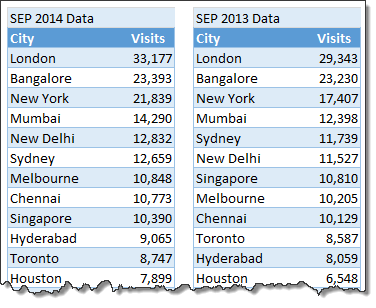 Chart visualizing top 100 cities
Here is a chart I prepared from this data.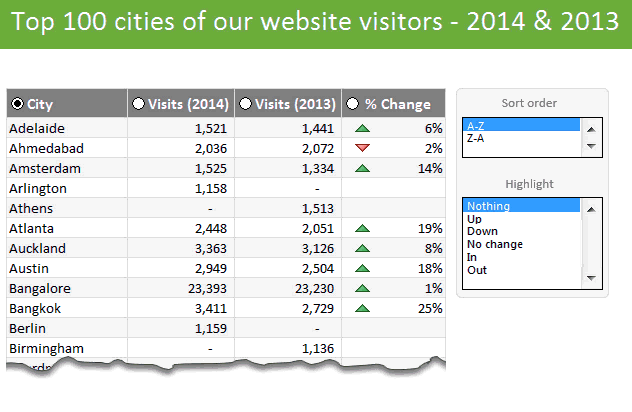 This chart (well, a glorified table) not only allows for understanding all the data, but also lets you focus specific groups of cities (top % changes, new cities in the top 100, cities that dropped out etc.) with ease.
Download top 100 cities visualization – Excel workbook
Click here to download this workbook. Examine the formulas & formatting settings to understand how this is made.
How is this visualization made?
Here is a video explaining how the workbook is constructed. [see it on our YouTube channel]
The key techniques used in this workbook are,
Since the process of creating this visualization is similar to some of the earlier discussed examples, I recommend you go thru below if you have difficulty understanding this workbook:
How would you visualize similar data?
Here is a fun thought experiment. How would you visualize such data? Please share your thoughts (or example workbooks) in the comments. I & rest of our readers are eager to learn from you.