All articles with 'singapore' Tag
A quick announcement folks. I am doing an Excel Boot-camp in Singapore this weekend (July 8-10) along with Paramdeep from Pristine. If you are interested in joining our Bootcamp, this is your last chance. Visit our Singapore Excel Boot-camp page for details & sign-up information. The last date for enrollment is Thursday, 7th of July. […]
Continue »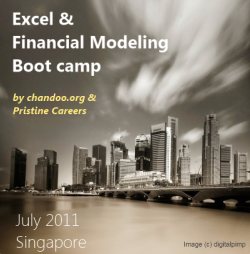 Hello Friends & Readers,
Our Singapore Excel & Financial Modeling Boot-camp is ready for your consideration.
We will be conducting it from July 8th to 10th.
Please read this short page to know details about the program and how to enroll.
Who is this boot-camp for?
This boot-camp is aimed at business analysts, financial analysts & managers, who use Excel all the time. If you are an Excel new-bie, this boot-camp is not for you. Otherwise, you will enjoy this.
Continue »