All articles with 'project finance' Tag
Hello friends & readers of Chandoo.org,
I am very excited to tell you that our financial modeling & project finance classes are open for registration starting today.
In this article, you can learn about our training program, how it can help you & payment instructions.
Continue »
Few months ago, we learned how to create a project valuation model in Excel as part of our series on Financial Modeling in Excel.
My Project Evaluation Model had a limitation!! In one of the personal comments that I received, the reader pointed out an important problem!
Continue »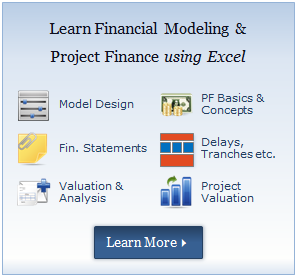 Hi my friends & readers of chandoo.org,
I have an exciting news for you. We have just opened the doors for our financial modeling course.
Please click here to learn more about the program & join.
What is Financial Modeling School?
This is an online training program for financial modeling, project finance modeling. I have partnered with Pristine Education, a company in India that specializes in Financial Modeling training to conduct this program.
This program is aimed at investment bankers, financial analysts, commercial bankers, equity research associates, project managers, sponsors, real estate project managers etc. to help them understand the nuances of project finance, financial modeling and create complex financial models using MS Excel.
Read rest of this post to learn more about the program.
Continue »

In the second part of our series on project finance using Excel, Paramdeep tells us how to model "interest during construction" in real estate and construction type of projects. We take a case of hospital construction and learn how to calculate the IDC using circular references.
You can also download both blank and completed model so that you can test the skills.
Continue »
This is a guest post written by Paramdeep from Pristine. Chandoo.org runs Financial Modeling School program in partnership with Pristine Careers. Visit Financial Modeling School to learn more and sign-up for our newsletter.
Greetings!
It's been long time since we interacted on Chandoo.org. Actually I was very busy teaching the 105 awesome students for financial modeling in Excel. We all worked together to create some easy and some complex financial models. I found the journey to be quite exciting and enriching (From the feedback that I got, my students too didn't find it bad either 😉 )
During the interaction, I found that a lot of students were looking for financial modeling around the project financing as well. So we thought why not introduce financial modeling for project finance.
In this post I will speak about some of the key aspects of a project finance model and why it can be different from modeling a normal company.
Continue »