All articles with 'power maps' Tag
This is third episode of our Monthly Master Class.
In this one, you will learn how to get maps in to your Excel workbooks. Understand 5 key techniques for making maps based visualizations in Excel – from regular charts to cell grids to VBA to Power Maps, everything is covered in this intense Master Class.
Continue »
This is part two of our three part series on how to analyze half a million customer complaints. Read part 1 here.
Analyzing Regional Trends
As introduced in part 1, our complaints dataset has geographical information too. We know the state & zip code for each complaint. Please note that zip codes are partial or missing for a 10% of the data.
In this article, let's explore three ways to analyze regional trends.
Regional trends by state, product & issue
Complaints per million by state
Complaints by zip code
Continue »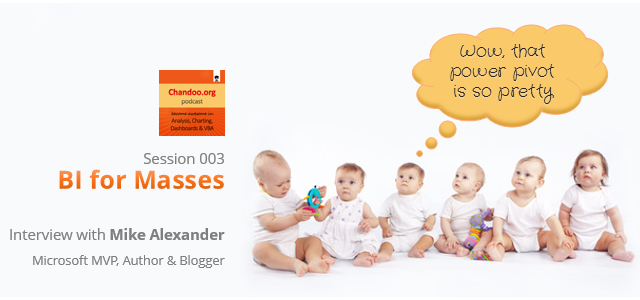 Podcast: Play in new window | Download
Subscribe: Apple Podcasts | Spotify | RSS
In the third session of Chandoo.org podcast, we are going to get BI curious. 😉
Not that kind you silly, We are talking about Business Intelligence, Big Data, Power Pivot & other Power BI family members. In this session, I am happy to feature Mike Alexander – Microsoft MVP, Author, Blogger & a good friend. Mike talks about how Excel is shaping the BI (Business Intelligence) revolution with advent of Power BI functionality.
You will learn,
Introduction, what Mike is up to these days?
What is BI, what does it mean to an average Excel analyst?
What BI capabilities Excel has – brief intro to each of them

Power Pivot & what it does
Power Query & why it is important
Power View & how it works (and where it sucks)
Power Maps

How to learn about these new technologies

Recommended Books
Websites
Courses
Live classes

Special gift for our listeners
Continue »