All articles with 'design' Tag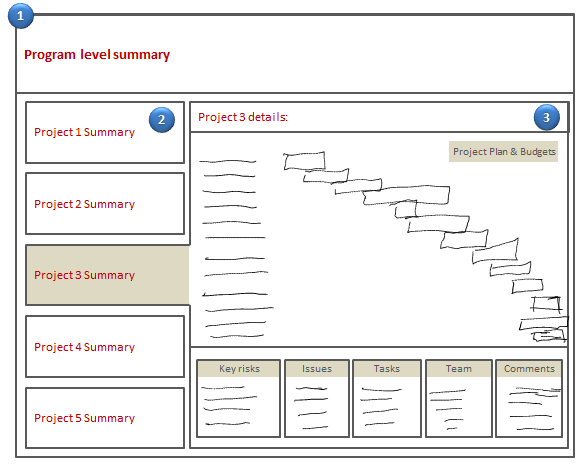 In this 2 part tutorial, we will learn how to design a project portfolio dashboard. Part 1 will focus on user needs & design. Part 2 on Excel implementation.
Background
As you may know, we sell a set of Excel Project Management templates. These templates help plan, track, manage & report a project right from Excel.
While these templates good, they have one limitation. They work for one project at a time. Many customers have asked me if I come up with a project portfolio dashboard that can tell what is going on in a set of projects in one view.
And that is where we begin.
Continue »
Yusuf, one of the blog readers emailed me and asked "how I can bebome an expert in Excel". I gave him some advice based on what I know. But I think My advice can be improved too. So I turn to you.
What do you think a person should do to become really awesome in Excel?
Share your thoughts, ideas and suggestions using comments. Suggest blogs, websites or books or anything that can help Yusuf (and countless others) really good in using Excel to become awesome in their work.
Continue »
Starting this month I will announce one member of our little community as member of month. It is to honor the contribution they made.
Jeff Weir is our member of month for July, 2009. He not only commented more than 40 times in the last month, but he even wrote a marvelous guest post on the chart busters series. I have learned several valuable excel and charting tips from him in the past few weeks. I am sure some of have too. Thank you Jeff.
Also in the post we have some excel links worth checking.
Continue »
It is the holiday week, that means less posts and more fun. We went to a friend's wedding yesterday and had wonderful time. We are planning to celebrate Christmas at home with friends this year. How are you celebrating the holidays this year?
Continue »
Every Friday, PHD celebrates the art of chart making by posting 5 beautiful visualizations. These are truly outstanding visualizations providing good information and insights. Browse the last 4 weeks featured items by clicking these links: Visualizations for your inspiration [Nov 04] Must see info-graphics [Oct 31] 5 Beautiful Visualizations [Oct 24] Visualizations of the week […]
Continue »
By now everyone and their grandmother must have known about how Republican National Committee has spent $ 150,000 on Sarah Palin's clothing and make up. I am a big fan of clothes. So much that I wear them everyday. But not all of us have a committee or fund raisers to dress up ourselves, none […]
Continue »
It has been a while since the blog's look and feel has changed. The number of visitors to blog has been doubling for the last 2 months. I felt the need for a simpler but more elegant blog look and feel. So during the labor day weekend I have spent a few hours and changed […]
Continue »
Often when you are adding several charts to your report or project plan, it may be important to have them all aligned to a proper baseline – a fundamental design principle. Take a look at this: But if you try to select each chart individually and adjust the alignment, it may not provide correct results […]
Continue »
My polar clock using donut charts in excel started a conversation and readers have been awesome enough to download the excel and create their own clocks to show time. Even though the idea of this blog is share the little that I know with you, it is amazing how much I have learned from you […]
Continue »
Smashing Magazine is one of daily hangouts for new design ideas, inspiration and ogle fun. When they featured Pixel Breaker's Polar clock last Friday on Top 10 creative ways to display time, I knew this could be an interesting visualization to do in excel. So I have created a donut chart in excel that can […]
Continue »
Time for another week of ogling at cool visualizations. What a week it has been for the chart makers 😉 Super cool visualization of 2008 Box office collection This is an area chart modified to indicate how a movie has performed everyweek, thus the movie markers go down (except for dark knight) after 1-2 weeks […]
Continue »