All articles with 'CAGR' Tag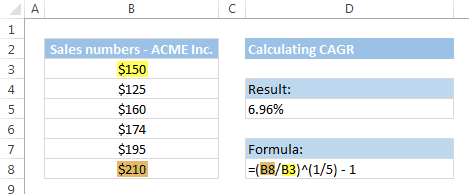 Lets talk about how we can use Excel to calculate Compounded Annual Growth Rate (CAGR for short).
What is CAGR? What does it signify?
Let us say you are the CEO of ACME Inc. You have been selling various widgets since 2009. In your latest annual report you want to tell your shareholder at what rate you have been growing ACME Inc. sales. The figure are,
2009 – $150 Mn
2010 – $125 Mn
2011 – $160 Mn
2012 – $174 Mn
2013 – $195 Mn
2014 – $210 Mn
Now, if you see the growth rates, they are all over the place. Right from -16.67% to 28%. But you want to report a single annual growth rate.
This is where CAGR (Compounded Annual Growth Rate) comes handy.
Continue »
Excel is very good for keeping track of your investments. Due to its grid nature, you can easily create a table of all the mutual fund holdings and monitor the latest NAVs (Net Asset Values) to see how your investments are doing. A while back we have posted a file on tracking mutual funds using excel. Today we are going to release an upgrade for that file.
Read the rest of this post to understand how this template works and download the free template.
Continue »