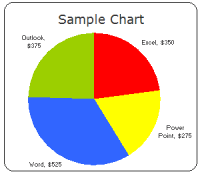 Here is the big hairy question of the week. What is your opinion on Pie Charts?
Pie charts are one of the most used charts in the world. And for obvious reasons: they are simple to create and easy to understand.
When it comes to pie chart, I have no clear opinion. Part of me says use them, the other says avoid them. The debate about pie charts is not just internal. Last time when Seth Godin included pie charts in his 3 laws of great presentation,
The problem with bar charts is that they should either be line/area charts (when graphing a change over time, like unemployment rates) or they should be a simple pie chart (when comparing two or three items at the same scale).
there was so much furor in the data visualization blogosphere that Seth even did a follow up post comparing bars with pie charts, where he says,
The pie chart contains far less data, but the point is obvious: Trolls are where we should focus our energy.

That's why you use it.  …

I stepped on the toes of many data presentation purists yesterday, so let me reiterate my point to make it crystal clear: In a presentation … the purpose of a chart or graph is to make one point, vividly. Tell a story and move on.
Personally I think pie charts provide great utility at very little cost:
They are very easy to create
Very very easy to understand (provided the data has some contrast, if your numbers are like 43,44,45,46, there is little chance that anyone can understand the resulting pie chart and make out which one is large and which one is small)
But, I also think they are easy to abuse (one reason why you see way too many pie charts compared to other charts).
Here is what I think cripples a pie chart from being effective:
Too many data points. A pie chart would probably be effective up to 4 values, anything more and you better have a strong story behind it for people to read and interpret. For eg. the pie chart shown to the right is used in Google Analytics reports. This compares browsers used by visitors of a site and even though there are probably hundreds of browsers, only 2 are prominent, so the pie still works.
Poor use of color. The purpose of color in most visualizations is to bring contrast. To separate apples from oranges. To throw light where your story lies. But most programs that are used to generate pie charts have poor (and often scary) color choices. When you use poor color combinations, the result will be drastic. But this blame is not on the person making pie charts, but on the pie chart software. See the example aside from clearlyandsimply to see what contrast means.
Making Pie charts that are difficult to compare. The purpose of pie charts is to provide comparison. So when we make a pie chart that has poor ability to compare, we are already lost. That means we should avoid all the flashy formatting, 3d pie charts, 3d donuts and layered donuts etc. Also, whenever possible, try Using data labels, using color and if nothing works, try using other types of charts for comparison. After all, we are not selling pie charts, we are selling our stories.
Ok, now the ball is in your court (or the pie is in your plate).
What do you think about pie charts?
Do you prefer them or do you consciously avoid them ?
How do you think pie charts can be put to better and greater use ?
Your turn…
Earlier on pie charts: Why no one likes your pie & what to do about it? | In cell pie charts | 22 beautiful pie chart templates for excel