Archive for September, 2013
Howdy folks. Jeff Weir here, borrowing the keys of Chandoo's blog so I can drive home a serious public service announcement. At Chandoo's excellent post What are best Excel interview questions? you'll find some great comments to help you land that next job, in the rare case that the someone interviewing you actually knows something […]
Continue »
Hello folks…
Time for a fun & useful survey. This time lets talk about Excel Interview Questions.
Many of you are silently becoming awesome in Excel, data analysis, charting, dashboard reporting, VBA, Power Pivot and business skills, thanks to all the time you spend on Chandoo.org. I am sure there will be a day in near future, when you have to face another interview and be selected for a challenging, fun & high paying role.
Likewise, there is also a significant portion of you who are too good in your job that you will become a senior manager, VP or CXO, or better still start your own business. When the tables have turned, you will be the one looking for smart, dedicated, talented and fun individuals to join your team and make you look even more awesome.
So my question for both prospective interviewees and wannabe Excel pros,
According to you, what are the best Excel interview questions?
Continue »
How to Solve an Equation in Excel
Continue »
Today lets get cozy. Lets start a fling (a very long one). Lets do something that will make you smart, happy and relaxed.
Don't get any naughty ideas. I am talking about INDEX() formula.
INDEX?!?
Of all the hundreds of formulas & thousands of features in Excel, INDEX() would rank somewhere in the top 5 for me. It is a versatile, powerful, simple & smart formula. Although it looks plain, it can make huge changes to the way you analyze data, calculate numbers and present them. It is so important that, whenever I teach (live or online), I usually dedicate 25% of teaching time to INDEX().
Enough build up. Lets get cozy with INDEX.
Continue »
Using Arrays To Update Table Columns We are creating a lot of reports everyday and these reports contain a lot of data which is presented in various styles as per the requirements. The data that allows us to create the reports is usually referred as raw data and in most of the cases is stored […]
Continue »
Use Excel to extract matching words from a list of words from a cell containing a sentence into individual cells in the order they exist
Continue »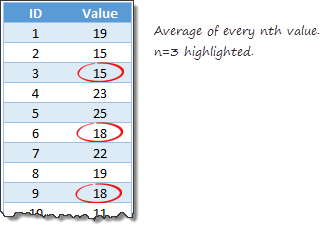 Lets say you have a large list of numbers, and you want to calculate the average of every nth value. Not the average of all numbers, but just every nth number.
That is what we will learn in next few minutes.
Continue »