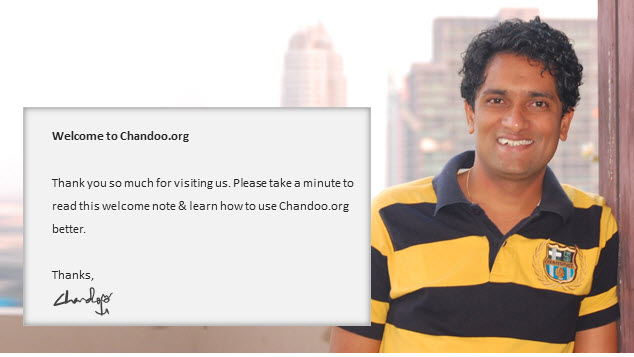 Welcome to Chandoo.org. Thank you so much for taking time to visit us.
Over the last few weeks, we have quite a few new members to the site. Its good time I said hello and introduced this site to you.
PS: If you have been following chandoo.org for a while, you can still find useful information in this post. So read on.
What is Chandoo.org?
At Chandoo.org, our goal is simple. We want you to become awesome in Excel. We emphasize the YOU part, because that is what this is all about. You & making you awesome.
How does Chandoo.org make you awesome?
Simple. We do this using 4 methods.
1. Give awesome tips, tutorials, examples & downloads
3 or 4 times every week, we write about various creative & productive ways in which you can use Excel to become awesome at what you do.
You can get these articles right in to your inbox by joining our free e-mail newsletter. Or you can subscribe to our RSS feed & read the articles in your favorite news reader.
When you join our newsletter, you also get a free e-book with 95 excel tips.
But joining my newsletter or subscribing to RSS feeds can only give you future posts. There is a ton of useful information, tutorials & tips buried in the archives of this blog. You see, we have been writing about excel for almost 5 years now.  Please check out,
And yes, grab a helmet. Because this stuff is mind-blowing.
2. Conduct awesome training programs
We conduct 5 different Excel training programs, all aimed to improve your skills & make you a hero in your office. To date, we have trained more than 3,000 professionals from all parts of the world and made them awesome in Excel.
All our programs are completely online & you can enroll at any time. You can access the training videos 24×7 and learn at a pace that works for you.
Our training programs at a glance:
| | | |
| --- | --- | --- |
| Course | What you get? | Know more |
| Excel School | Step by step training to make you awesome in Excel (and Dashboards). 32 hours of video classes. Clear & easy to understand explanations on all aspects of basic & advanced Excel. | Click here |
| VBA Classes | Create your VBA code & macros by going thru this well designed VBA course. Learn all day-to-day aspects of VBA with lots of examples, theory. 24 hours of video classes. | Click here |
| Financial Modeling School | Learn how to make an integrated valuation model using MS Excel. Model cash-flows, profit-loss & balance sheets in spreadsheets. Analyze valuations using scenarios. 20 hours of training. | Click here |
| Excel for Project Managers | Master the art of project management. Learn how to create gantt charts, project budgets, trackers & status reporting dashboards all using Excel. 6 modules. | Click here |
| Excel Formula Course | Write better formulas & analyze data. 6 modules on all sorts of everyday formulas. Master advanced formulas like SUMIFS, SUMPRODUCT, INDEX+MATCH, Date formulas, Text formulas. | Click here |
3. Sell Excel Tools to make you Awesome
We sell Excel templates for awesome project management & an e-book for learning formulas. These products are crafted with so much passion. More than 2,000 customers have bought these from us and have enhanced their productivity and became heros in front of their bosses & colleagues.
4. Run an Awesome Excel Forum
Almost 3 years ago, we started an Excel forum. It has been growing steadily and now hosts more than 5,000 discussions with 2,000+ active users. Dedicated users like Hui, Luke, SirJB7, Narayank, bobhc, Faseeh contribute regularly and answer questions with passion & kindness. It has become hidden treasure of knowledge, new ideas & learning for many. You too can join our forums & share your knowledge (or ask your questions).
Register on Chandoo.org forums
Ask a question today
Who is behind Chandoo.org?
Although started as a personal website back in 2004, after 8 years, Chandoo.org runs on a small employee force (4) and massive volunteer community.
About Chandoo
My name is Purna Duggirala. Chandoo is my nickname. I have used the same for registering this website in 2004.
After working for a few years as a business analyst with India's leading IT company, I quit in April 2010 to make this website my full time work. You can read the back story here. Also, you are welcome to read my adventures in entrepreneurship at Startup Desi.
I am happily married to Jo, my college sweetheart and love of life. In September 2009, we became parents to twins – a boy and a girl. Nishanth (boy) & Nakshatra are as naughty, hilarious & lovable as they come. And our life is even more beautiful ever since.
We live in Vizag, a small coastal town in south east part of India. [more…]
People who help me running this site
There are many people who directly and indirectly contribute to our success. I am just mentioning the key people to keep this short.
Hui: contributes voluntarily to our site as a guest author (60 posts, 1,000+ comments), forum member (3,500+ posts). Lives in Perth, Australia with Eva (wife) and kids.
Vijay: manages our online VBA classes, contributes occasionally as guest author, forum member. Full time employee of Chandoo.org. Lives in Delhi, India with Anita (wife) and Ashwin (son).
Sameer: answers student questions on Excel School & VBA classes. Employee of Chandoo.org.
Ravindra: manages student admissions to our online courses. Helps me with phone and email answering. Full time employee of Chandoo.org. Lives in Ongloe, India.
Paramdeep: runs our financial modeling courses. Occasionally writes on chandoo.org. Lives in Delhi, India with wife and son.
Learn more about us & what we use to run this site.
How to use this website?
This site is awesome because you are awesome. We learn from each other, share what we know, be respectful to others & have a sense of humor. We love to make mistakes and improve every day.
The following is a best way to use this site and become awesome,
Each article has a comments section. Make sure you read the comments and respond / ask any questions related to that topic.
If you want to explore and learn more, visit archives page and click on a random month. Start reading.
Play with downloadable excel files. Modify formulas or break the contents to understand how it works.
Use navigation links at the bottom of each article to see next & previous artciles.
Have a read of chandoo.org policies
Check out contact details if you want to get in touch with me.
Searching Chandoo.org
On all pages on this site, you can find a search bar at top-right corner. It has auto-complete. Start typing and you will see suggestions. We have both image & text search, so that you can quickly find what you want. All powered by magicians at Google.
Navigating Chandoo.org
Today, we have more than 1,000 articles, 20,000 comments, 25,000 forum posts and 50,000 active users of our site. All this means, we have massive information. So navigating & making sense becomes a bit difficult.
Worry not, we are working to make it easier for you. Follow the top menu links to quickly access any area of site. You can place pretty much any word next to http://chandoo.org/wp/tag/ and reach the relevant page (example: tag/dashboards, tag/charting, tag/conditional-formatting…). Check out archives to see monthly listing of all articles. Use search to find specific examples or articles you want. If nothing works, post your request on forums or email me (contact details here).
Connecting with Chandoo.org
While we are not as social as Paris Hilton, we do have a sizable presence on latest web fads. Click on below links to connect with us on your favorite social media platform.
Once again Welcome to Chandoo.org
Thank you so much for visiting our site. I wish you become awesome in not just Excel, but everything else you do.