In the 18th session of Chandoo.org podcast, lets loose your Pivot table virginity.
Note: This is a short format episode. Less time to listen, but just as much awesome.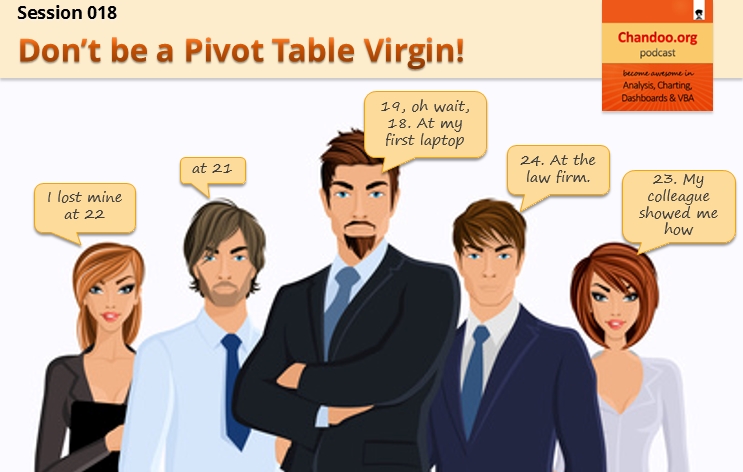 First some good news!
Our podcast crossed 100k downloads. Yay!!!
That is right. It took us 6 months & 17 episodes to reach this milestone.
Thanks for loving Chandoo.org podcast. You are awesome.
PS: If you have not already subscribed, get it here from iTunes (other ways to subscribe).
What is in this session?
Pivot tables are a very powerful & quick way to analyze data and get reports from Excel. But surprisingly, not many use them. Today, lets bust your pivot table virginity and understand the concepts like pivoting, values, labels, filters, groups and more.
In this podcast, you will learn,
Announcements
What is a Pivot Table?
Example of business data & reporting needs
Terms to understand

Labels
Values
Groups
Filters

Report filters
Slicers
Label & Value filters

Creating your first pivot table
Learning more about pivot tables
Go ahead and listen to the show
Podcast: Play in new window | Download
Subscribe: Apple Podcasts | Spotify | RSS
Links & Resources mentioned in this session:
Excel Pivot Tables – Introduction, Examples, Tutorials & Tips
Advanced Pivot Table concepts

Pivot Table uses & case studies
Books & Courses on Pivot Tables
Transcript of this session:
Download this podcast transcript [PDF].
You & Pivot tables… tell me all the racy stories
I lost my pivot table virginity in 2005. But I quickly regained it as I did not use them much for next 3 years. Then I lost it for good and I am glad for that. Now a days, I use pivot tables almost every week. And they give me quick and easy solutions to many analytical problems I face.
What about you? When did you loose your pivot table virginity? How do you use them every day? Please share your tips, stories & experiences in the comments area.