Convert fractional Excel time to hours & minutes [Quick tip]
Time for another quick Excel tip.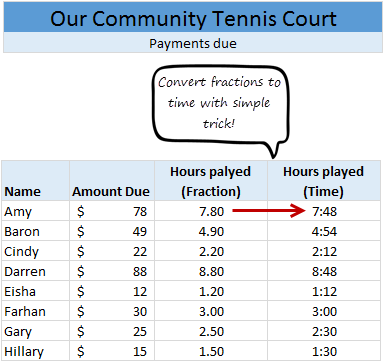 Lets say the park near your house rents tennis courts by hour. And they charge $10 per hour. At the end of an intense tennis playing week, Linda, the tennis court manager called you up and said you need to pay $78 as rent for that week.
How many hours did you play?
Of course 78/10 = 7.8 hours.
But we all know that 7.8 hours makes no sense.
We also know that 7.8 hours is really 7 hours 48 minutes.
So how to convert 7.8 hrs to 7:48 ?
That is our quick tip for the day.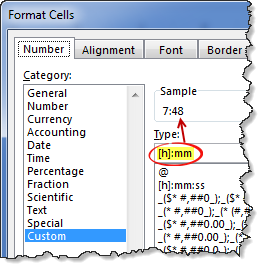 Simple, assuming the fractional time is in cell A1,
Use below steps to convert it to hours & minutes:
In the target cell, write =A1/24
Select the target cell and press CTRL+1 to format it (you can also right click and select format cells)
Select Custom from "Number" tab and enter the code [h]:mm
Done!
52 Bonus tips:
Thats all for now. Stay awesome until next time.
Hello Awesome...
My name is Chandoo. Thanks for dropping by. My mission is to make you awesome in Excel & your work. I live in Wellington, New Zealand. When I am not F9ing my formulas, I cycle, cook or play lego with my kids. Know more about me.
I hope you enjoyed this article. Visit Excel for Beginner or Advanced Excel pages to learn more or join my online video class to master Excel.
Thank you and see you around.
Related articles: