Time for another quick Excel tip.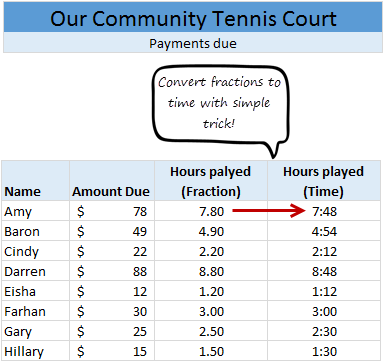 Lets say the park near your house rents tennis courts by hour. And they charge $10 per hour. At the end of an intense tennis playing week, Linda, the tennis court manager called you up and said you need to pay $78 as rent for that week.
How many hours did you play?
Of course 78/10 = 7.8 hours.
But we all know that 7.8 hours makes no sense.
We also know that 7.8 hours is really 7 hours 48 minutes.
So how to convert 7.8 hrs to 7:48 ?
That is our quick tip for the day.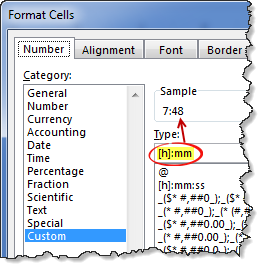 Simple, assuming the fractional time is in cell A1,
Use below steps to convert it to hours & minutes:
In the target cell, write =A1/24
Select the target cell and press CTRL+1 to format it (you can also right click and select format cells)
Select Custom from "Number" tab and enter the code [h]:mm
Done!
52 Bonus tips:
Thats all for now. Stay awesome until next time.