CP011: 5 Excel magic tricks to impress your boss
In the 11th session of Chandoo.org podcast, lets puts on a magic show for your boss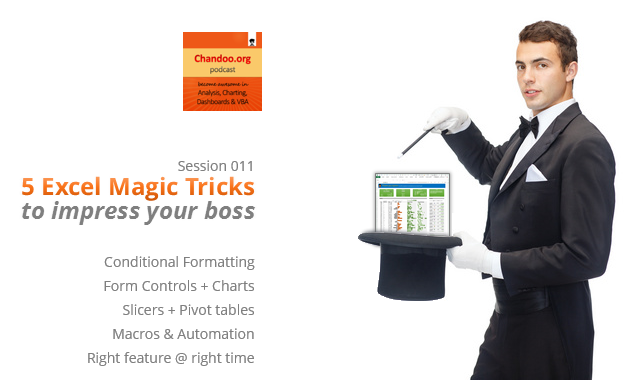 What is in this session?
We all want to impress our bosses, create awesome experiences for our users and become enviable in workplace with our Excel skills. In this session, lets explore 5 very powerful, magical features of Excel that can help you create that jaw-dropping effect.
In this podcast, you will learn,
Announcements
Why magic
5 Excel Magic Tricks
1: Conditional formatting
2: Form controls + Charts
3: Pivot tables + Slicers
4: Macros + Automation
5: Using right feature @ right time
How to learn these magic tricks
Conclusions
Go ahead and listen to the show
Podcast: Play in new window | Download
Subscribe: RSS
Links & Resources mentioned in this session:
Conditional Formatting
Form controls + Charts
Pivot Tables + Slicers
Macros & VBA
Transcript of this session:
Download this podcast transcript [PDF].
What are your favorite Excel magic tricks?
My favorites are conditional formatting, slicers, form controls + charts in that order.
What about you? What features of Excel are most impressive and mesmerizing? Please share your thoughts using comments.

Subscribe to Chandoo.org Podcast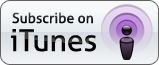 Hello Awesome...
My name is Chandoo. Thanks for dropping by. My mission is to make you awesome in Excel & your work. I live in Wellington, New Zealand. When I am not F9ing my formulas, I cycle, cook or play lego with my kids. Know more about me.
I hope you enjoyed this article. Visit Excel for Beginner or Advanced Excel pages to learn more or join my online video class to master Excel.
Thank you and see you around.
Related articles: