Last week, we learned how to create win-loss charts in Excel. In the comments, Dan said,
Incidentally, the fastest way to do this would be using SFE, just reflect your data with 1 for a win, – 1 for a loss. There's even an option to automatically invert negative numbers. #
Of course, we can use the beautiful Sparklines for Excel addin to do this and several other charts. But if you just have a series of Wins and Losses, like below, you can use a column chart to create win loss charts too.
Your Data:
Lets say you have data like this,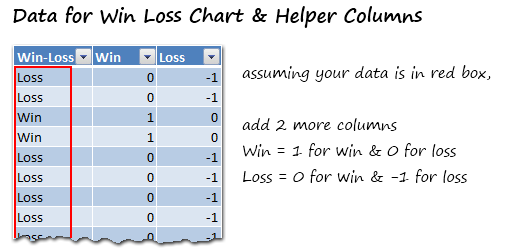 Win Loss Chart in Excel – 5 Steps
Step1: Select Win & Loss columns and Insert a Column Chart
This is the first and easiest step. At the end, your chart looks like this:
Step 2: Adjust the Series Gap & Overlap
Select either Win or Loss series and press CTRL+1 (or goto format series).
From here, adjust the gap to 0
and overlap to 75%, like shown aside.
Step 3: Remove un-necessary chart elements
Remove grid lines and labels
Remove horizontal axis
Select vertical axis and press CTRL+1 (format axis).
Now, adjust axis min to -1 and max to 1
Close it and remove vertical axis too
Step 4: Adjust colors
Change the colors if you fancy.
Step 5: That is all
There is no step 5. Your win loss chart is ready. Go ahead and show it off.
Download Win Loss Chart (Improved) Template:
Click here to download the winloss chart template and play with it.
Click here to download the winloss chart template complete with Sinusoid chart template. (Supplied by Hui)
Learn more – Excel Charting
If you want to learn Excel Charts, start with our charting tutorials page. We have more than 250 articles on charting, visualization, data analysis and excel tips.