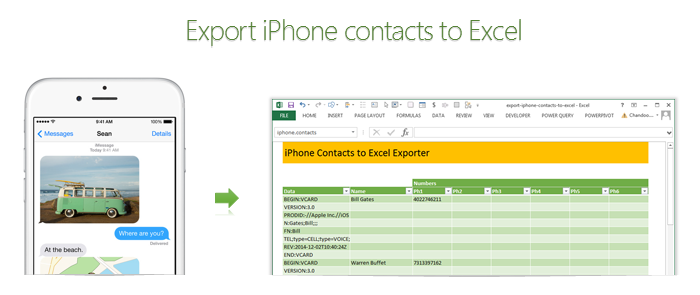 Recently my iPhone 4 crashed. It is 3.5 years old. And just like any other 3 year old, it started acting weird & crazy one night. The next morning it went silent. It won't go beyond the Apple logo whenever I start it. Since I couldn't wait for the phone to start, I took out the SIM card (the phone is unlocked, if you are wondering) and placed it in my old Nokia phone. But alas, none of my contacts are on the SIM. They are in "cloud".
After a day of answering phone calls from everyone including my mom as "Chandoo here", I've decided to get my contacts back. So I logged in to iCloud to download a backup. And the backup was a .VCF file. It has my phone numbers in this format: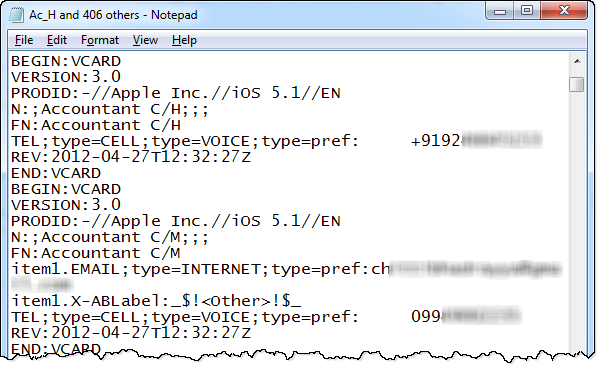 Since I wanted to have all my contact numbers in a spreadsheet, I did what any Excel nerd would do. I built a template for that.
Template for exporting iPhone contacts to Excel
As a first step, download the template.
This template can,
Export iPhone contacts to Excel
Create iPhone import format from a list of names & phone numbers in Excel
Exporting contacts from iPhone to Excel
To export the contacts from your iPhone to Excel, follow below steps
First back up all the contacts on your phone to iCloud
Now, visit iCloud and select all of your contacts.
Using the settings gear icon at the bottom, export your contacts to a .VCF file.
Open the vcf file in notepad & copy everything.
Paste the data in Data column of "export" tab of the download file.
Names & phone numbers will be extracted in column D:J
Filter the table so no blanks are shown in Name column
Copy the values from Name & phone number columns and paste in a separate sheet or file
Save.
Importing spreadsheet contacts to iPhone
To copy all your spreadsheet contacts to iPhone,
Go to "Import" tab of the download file.
Type or paste your contact information in the columns B,C & D.
Select "VCF to copy" range (from H4 to last cell)
Copy
Open notepad and paste.
Save the notepad file as contacts.vcf
Import the VCF file to your iCloud
Done
Confused about the process? See this video
Since the process of exporting or importing contacts thru iCloud can be a little confusing, I made a small video explaining how the template works. See it below:
(click here to see the video on our YouTube channel)
How does the template work?
The vCard format files are simple text files. So when pasted in Excel, all we need to do is figure out where the contact name & phone numbers are and extract them using, what else… Excel formulas.
Exporting VCF to Excel:
You can examine all these formulas by unhiding columns C & K:Q in the export tab of the template.
Importing Excel data to VCF:
This uses INDEX formula to get a name & phone number from entered data.
Then uses CHOOSE & SUBSTITUTE formulas to create the corresponding VCF lines
You can examine these formulas in columns F,G & H in the import tab.
Do you like this template?
It was fun building something useful & immediate like this in Excel. Although, soon after I created the template, my iPhone magically sprung back to life, I will be ready next time I need to look at my contacts or load them to another phone.
How do you like this template? Would you use this or some other app to export / import your contacts? Please share your thoughts and tips using comments.