Hurricane Sandy has taken front seat in all major news channels, papers, websites even in far off places like India. I hope & pray that our readers in US East coast are safe.
Today, lets understand the journey of Hurricane Sandy in this animated chart, prepared by Chris from Excel365.net.
Hurricane Sandy Journey – Animated Excel Chart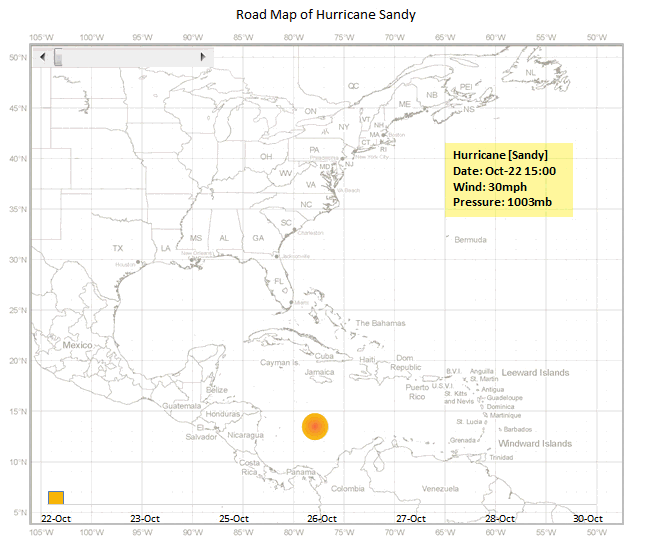 How is this animated chart made?
The basic ingredients of this chart are:
An outline map of Americas
Data of the storm since it was tropical depression (22nd October) to the time it crossed the coast (30th October)

Lat & Long of the storm
Wind speeds
Pressure

A scroll bar form control that shows only a subset of this data
A VBA macro that animates the chart
Since all these techniques are previously discussed on Chandoo.org, I am going to list down the process in high-level with links to learn more.
Based on scroll bar position extract first n values only in to another table. Learn more: OFFSET formula *
Use an outline map & bubble chart to plot circles along storm's trajectory. Learn more: Olympic medals by country since 1900
Change scroll bar values from 1 to 'n' using a vba macro, when triggered. Learn more: Creating a clock in Excel
You are done!
* Chris uses #N/A based technique instead of OFFSET ranges in the chart.
Download this and play with it
Click here to download the workbook & learn by breaking it apart. Examine macros & charts closely and add new techniques to your toolbox.
Do you love this? Say thanks to Chris
I really loved this idea. Very intuitive and timely. Thank you so much Chris for sharing this and teaching us something new.
If you loved this, say thanks to Chris. Check out his website (it is in Chinese) for some useful tricks.