Make a Pivot Table in Excel [15 Second Tutorial]
Last week we have posted a simple to understand excel pivot table tutorial here. Today I am going to supplement the tutorial with a 15 second video tutorial on Making excel pivot tables.
(Click the link below if you are not able to see the youtube video in feed reader or email)
Watch the How to make a pivot table in excel tutorial on YouTube.
Browse more 15 second tutorials & quick excel tips
Do you want to be awesome in Excel?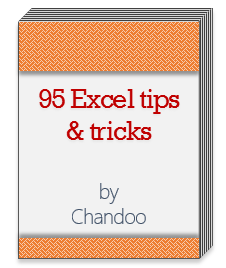 Here is a smart way to become awesome in Excel. Just signup for my Excel newsletter. Every week you will receive an Excel tip, tutorial, template or example delivered to your inbox. What more, as a joining bonus, I am giving away a 25 page eBook containing 95 Excel tips & tricks. Please sign-up below:
Your email address is safe with us. Our policies