There is a clear shift in the distribution of TV ads, its no longer FMCG or consumer durables alone, you have a variety of ads ranging from financial services, recruitment, online services and electronics. For once it's a pleasure to watch more than the powder and paste ads.
One clear trend I can spot is the strong repositioning exercise undertaken by some of the leading banks of the country. This means new age banks like ICICI, CITI etc. who are marketing themselves on superior service and better products are in for a tough fight in terms product/service differentiation, innovation.
Let me talk about 2 such campaigns:
Surprisingly SBI: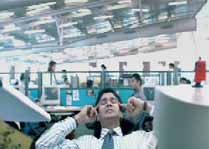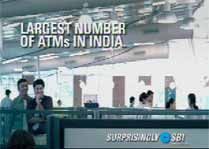 It's been a couple of months since the initial ads have surfaced. When I saw it first time I wasn't impressed at all, for one a leader like SBI trying to convince us that we really don't know their scale and services and then explaining what they are didn't fit in well. Some of the promises made in the ads like 8to8 banking etc sounded like far from reality. I have an SBI account for the last 8 years and I know the service levels they are capable of.
But during my visit to home, I have interacted with my aunt who is working in SBI and surprised to find out the scale of internal restructuring and HR policy reshaping taking place in the bank. Certainly the ads now make more sense. Finally the service organizations in the country started moving from 'we offer you a great favor' mode to 'we are trying to sell what you want' mode. Good for us.
More on Surprisingly SBI: Agency Faqs, BL, Blogs [ Sucheta Dalal, Kaushal Sheth ]
Think Big: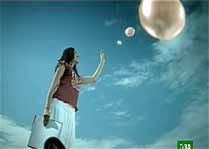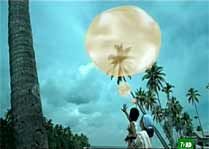 IDBI's campaign encouraging people to think big with the help of bank services is another clear repositioning exercise, we have to wait and see whether this is just a campaign or actually backed by a massive corporate restructuring.
What are the challenges faced by such old-age banks?
Employee mind set: most of the employees find it tough to change their behaviour towards customer. They might feel doing 'great favors' whenever a customer gets more than normal services. Fighting this syndrome means,
Clear communication to them about new position of the bank
Incentives/punishments designed to motivate them
Monitoring service levels and ensuring that they go extra mile every day
Customer mind set: Some of the existing customers actually stuck to bank because of its no-nonsense service levels, they never get tortured by phone calls or get introduced to unwanted loans/products. Changing their mindset without distancing from them is a tough balancing act.
Hello Awesome...
My name is Chandoo. Thanks for dropping by. My mission is to make you awesome in Excel & your work. I live in Wellington, New Zealand. When I am not F9ing my formulas, I cycle, cook or play lego with my kids. Know more about me.
I hope you enjoyed this article. Visit Excel for Beginner or Advanced Excel pages to learn more or join my online video class to master Excel.
Thank you and see you around.
Related articles:
Written by Chandoo
Tags: advertising, article, business, campaign, communication, company, customer, India, leading, marketing, product, service, story, tv
Home: Chandoo.org Main Page
? Doubt: Ask an Excel Question