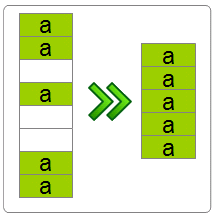 In our excel paste tricks post, I have mentioned a paste special feature called "skip blanks" that can apparently be used to skip blank cells when pasting data. I am writing about this again because, I have received an email from Bruce saying,
This is erroneous. In actuality, the result that is pasted is the same size as what was copied, only in those cell references that were copied that happened to be blank, the destination cell references aren't "written over"
and he is correct, I am wrong. I am sorry for this mistake. For some reason I didn't test this tip while writing, I some how thought excel skips blank cells while pasting and shared the tip with you all. My mistake and thanks alot to Bruce for teaching me this tip in the correct way. I test all the tips posted here on at least one version of excel, this was an exception, I am hoping it will not be repeated.
Just in case you want to skip blank cells, here is a work around.
Apply data filters on the range from which you want to remove blanks, filter by non-blank cells and select it. Press ctrl+c and paste it wherever you want. Excel pastes only cells matching the filter criteria (thus skipping blanks)
PS: I have corrected the post too. The e-book will be corrected later on.