Sometimes the anomalies and opportunities presented by online advertising leave me surprised. One thing that I always question is why cant the online advertising make sense? Companies spend huge chunks of money placing their ads right behind customers mouse pointer. And the result? The online advertising becomes much more confusing than offline alternatives. If ad-clutter in TV/newsprint is a pain then its equally painful online. For that matter the online clutter sometimes might be detrimental to your business (if your ad is one of them).
Evidence?
(1)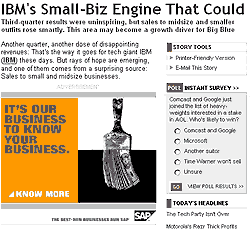 The cover story on today's BusinessWeek is about IBM and how its Small Business strategy is helping them in making profits and stock market comeback. And what do I see when I click on the story. Colorful ads of SAP selling their solutions to interested parties. Whether IBM gains mileage out of the story or not anyone's guess. Well, its not really difficult to generate a list of popular feeds referring to IBM from time to time. Then all the company marketing/ad team has to do is to ensure that you are talking to people interested in you at that precise hyper(con)text.
(2)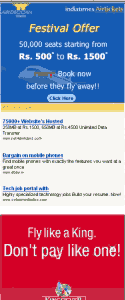 While reading some of the stories in Brand equity in ET I came across a page where Air Deccan and Kingfisher airlines are placed almost adjacent to each other. Now, this is nothing but wastage of money of both the parties and only beneficial to ET (not even customers). Again, rarely we see such advertising (2 competitors sponsoring same serial etc.) on normal media. Its really not difficult to eliminate one of the ads and thus increase the efficiency of both.
(3)


No comment on this one.
Converting new age advertising into an opportunity?
This is one of the topics that I have suggested for our marketing paper contest in IRIS 2005. The challenge is huge and much more complicate than the fight for column centimeters and TRPs. More on this later…
Hello Awesome...
My name is Chandoo. Thanks for dropping by. My mission is to make you awesome in Excel & your work. I live in Wellington, New Zealand. When I am not F9ing my formulas, I cycle, cook or play lego with my kids. Know more about me.
I hope you enjoyed this article. Visit Excel for Beginner or Advanced Excel pages to learn more or join my online video class to master Excel.
Thank you and see you around.
Related articles:
Written by Chandoo
Tags: advertising, brand, business, company, customer, iris, marketing, money, stock, story, strategy, tv
Home: Chandoo.org Main Page
? Doubt: Ask an Excel Question