This post is about my Excel School online training program. Feel free to skip if you are looking for excel tips.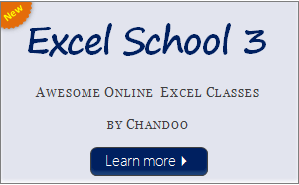 Some of you know that I run an online Excel training program called Excel School. It helps excel newbies and beginners to learn about various powerful features and become proficient in them. We discuss formulas, conditional formatting, charting, pivot tables, data validation, tables, introductory macros, advanced charting & advanced formulas in excel school.
I am re-opening Excel School for admissions on September 15th. That means, I am busy running from pillar to post to make sure the fresh batch of students have the awesomest experience when they sign-up. But I have a few last minute surprises and announcements for you.
Read on, if you want to learn excel and become even more awesome.
Excel School will be open for 1 year: That is right. Now your student membership is valid for 1 year from the date of admission. So you can enjoy all the lessons, ask questions, get news letters, post comments or benefit from new content for one full year.
24 hours of video lessons: Excel School now has 24 hours of delicious, mouth-watering videos explaining various powerful tricks, ideas and tutorials on using Excel.
All New Beginner Module: Excel School 3 comes with a beginner module (90 minutes, 10 lessons) so that even if you dont know much about excel, you can still enjoy all the kick-ass content in Excel School.
One hour Live Webinar: That is right. In addition to all the great content in Excel School, this time we are going to have a one hour live webinar. This will happen one month after the start of school and I will answer student questions on any topics in lesson plan. And of course, you can watch the recording of it, if you cannot join us online.
Excel School Assessment Quiz: You may be wondering if you really need an online training program like Excel School. So I have created a simple assessment quiz. Go ahead and take it [Excel 2007 version here]. You will know if Excel School is worth it.

Experience Excel School before Joining: I have created a short 7 min. video explaining how excel school works. Just see it yourself.

What do current batch students think about Excel School?
At the end of Excel School, I ask my students to share their feedback. So far, 80 students have completed their feedback (out of 350 students in the program in first 2 batches). As you can guess, many of them love the program and have benefited hugely from it. See complete student reviews, ratings & testimonials.
Download Excel School Course Guide
Find more about excel shcool curriculum, teaching methodology, pricing, important dates in the excel school course details [PDF]. You can use this to convince your boss to sponsor you for Excel School.
Last Few days to get 3 FREE lessons
If you sign up today, I will email 3 excel school lessons to you, completely free. You can learn about conditional formatting, sumproduct formula and pivot tables from these lessons. Go here to sign-up.
All for a great price
Excel School will come in 2 flavors

Online option: you can watch all the lessons online, download example files and do more
Download option: everything in Online option + ability to download all lessons in HD.

Excel School Pricing Details:

Do you have any questions about Excel School?
Post your questions thru comments or email me at chandoo.d @ gmail.com. I will be glad to help you out.
See you in Excel School. Tada!