In the 7th session of Chandoo.org podcast, lets make you aweSUM().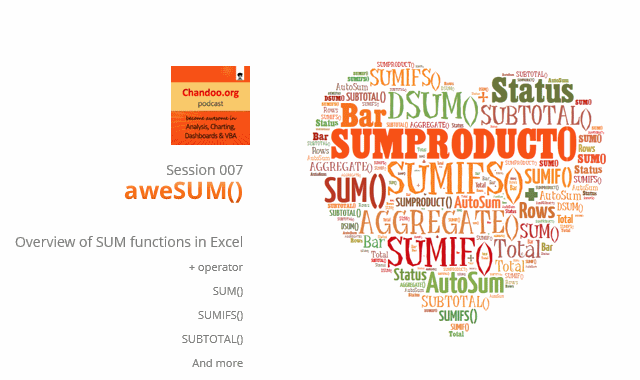 Before we proceed in to the session, let me remind you:
Subscribe to Chandoo.org Podcast
Do you know that you can subscribe and receive latest episodes of our podcast right to your ears? Use one of the below links to get started.
What is in this session?
Imagine for a second that Excel cannot add up numbers. And no it cant subtract them either. What would that look like?
A glorified Notepad. That's right. Excel's ability to add up numbers, along with features like formulas, charts, pivot tables & BHATTEXT() are what make it such a lovely software. May be not the BHATTEXT(), but we all agree that Excel is so versatile and useful because it can add up numbers (and perform other calculations) with ease.
But how well do you know the SUM formulas of Excel?
In this podcast, you will learn,
Special personal fruit announcement 😛
+ operator
Status bar & total rows in tables
Auto Sum feature
SUM() function
SUMIFS function
Special cases of SUMIFS function

Sum of all positive numbers
Sum of all numbers for March 2014
Sum of all customers with name =

taco bell

SUBTOTAL & AGGREGATE functions
Other summing functions
Conclusions
Go ahead and listen to the show
Podcast: Play in new window | Download
Subscribe: Apple Podcasts | RSS
Links & Resources mentioned in this session:
Resources to learn SUM functions
Functions
Excel Tables
Examples
Transcript of this session:
Download this podcast transcript [PDF]
How awesome are your SUM skills?
SUM formulas are corner stone of any dashboard or report or meaningful model. So it no surprise that I use them often. My favorite sum formula is SUMIFS(). It is versatile and powerful. I am learning to love DSUM() too. I will share details about it in an upcoming article.
Meanwhile, tell me what is your favorite SUM formula? What are the tricks and techniques you use when writing SUM formulas? Please share your thoughts using comments.