All articles in 'blogging' Category
Hi folks,
Today is valentines day. So I thought I should share a few love letters I recently got.
Correction: These letters are not for me, but for our site – Chandoo.org
Addendum: Don't write me off yet. In my college days I did get all of 17 love letters, mostly because campus postman mistook me (room number 79) for the six foot athletic hunk in room number 29.
While I may not get cat calls & suggestive remarks when I walk on the street, Chandoo.org, the site would totally be kissed and hugged by people of all sexes and ages (well 21 and above).
You see, our site is like Ryan Gosling of Excel websites (or Mila Kunis). Those of slightly older can imagine Chandoo.org as George Clooney or Marissa Tomei of the data analysis world.
How else can I explain the barrage of love letters I get for Chandoo.org?
Continue »
Hi friends & readers of Chandoo.org
I hope you had a fantastic start to 2013. Mine was awesome so far.
This year, I am even more committed to making you awesome in what you do. As a first step, I have created a small survey to know how we can help you better this year.
Please take our 2013 readership survey [takes less than 5 mins to answer]
That is all for now. Wishing you an awesome, Excellent new year 2013.
Continue »
This year has been the busiest year since the inception of Chandoo.org. We had 161 posts, 8,900+ comments, 33,500+ forum posts. We have trained more than 2,500 students thru training programs like Excel School & VBA Classes this year alone. More than 6.5 million people visited our site this year (up 82%),  consuming a whopping […]
Continue »
2012 has been the most awesome year since we started Chandoo.org.
The credit for this goes to our community of Excel users – that is you.
For practically every day of 2012, you have inspired me (and all of us at Chandoo.org) to learn something new, share and make you awesome. I know I say this many times, but I can never feel enough – Thank you for your support to Chandoo.org.
Apart from you, there are many other amazing people & companies that played a role in our success. In this post, let me highlight them & express my sincere gratitude.
Continue »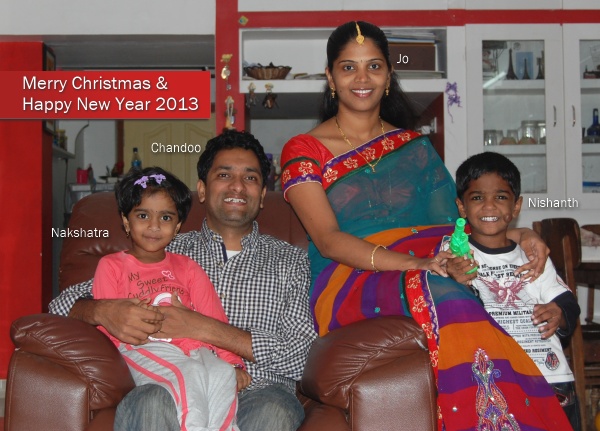 We wish you a merry Christmas & very happy New Year 2013. May your holidays be filled with joy and warmth. And your new year with lots of hope, fun, strength and awesomeness.
I also want to tell you how thankful & fortunate I feel to have your support in this year. Your desire to learn Excel & become awesome at your work motivates me everyday to learn & share. 2012 is a memorable year because of you. Thank you.
Continue »
Welcome to Chandoo.org. Thank you so much for taking time to visit us.
Over the last few weeks, we have quite a few new members to the site. Its good time I said hello and introduced this site to you.
PS: If you have been following chandoo.org for a while, you can still find useful information in this post. So read on.
Continue »
So that was stressful. As many of you know, our main site http://chandoo.org/wp/ was down for good part of last 2 days due to a mysterious PHP error. After trying to fix it for 2 days and drawing a blank every time, I gave up and used my trump card – delete wordpress and manually re-install it. That seemed to do the trick. I can load the site alright, write this post and share the news with you.
I will post something awesome & useful on Excel tomorrow. Wish you a beautiful day ahead.
Continue »
This year has been the most hectic since we started Chandoo.org. We had 178 posts, more than 7,500 comments & 10,000 forum posts. We have trained more than 2,500 students thru Excel school, VBA Classes & Financial Modeling Classes this year alone.
More than 3.5 million people visited our site this year, spending an average of 2:30 minutes per visit, consuming a whopping total of 10.5 million page views. Just to give you a comparison, last year (2010), we had 1.5 million people visiting 5.5 million pages. We have also added 17,000 more RSS / Newsletter members this year. It is a hectic year for the site.
To wrap up the wonderful year, I want to share a list of posts that most of you loved.
Continue »
2011 has been the most awesome year since we started Chandoo.org.
Without doubt, the credit goes to our community – that is you.
I feel very fortunate to have you in our community. You inspire me to learn & share. I know I said this several times, but everytime, I feel like I have not done enough. Thank you so very much.
Apart from our little community, I feel thankful to many others, who have helped me through out 2011 to make you awesome in Excel. In this post, I am highlighting them & expressing my gratitude.
Continue »
Christmas & New year have always been our favorite holidays. Many of our relatives & friends visit us around this time. The weather is excellent. This year, it seems even more special. Nakshatra & Nishanth (our twins) are looking forward to this as much as we do. Plus, we are celebrating it in our new home. Feels magical.
We wish you Merry Christmas & Happy New Year 2012.
I also want to tell you how thankful I am for your love, support & kindness. Everyday, I feel inspired knowing that I can share my knowledge, mistakes & passion with all of you. Thank you so much for your eagerness to learn from me, we have a home now, we get to spend time with our kids and do things we love & care. Thank you.
Continue »
Normally when responding to a Post or a Forum Post you will see a plain old text response like

Occasionally you may see some Bold or Code highlighted like

How is this done and what else can I do to add value / pizazz to my posts ?
Continue »
It is megaphone time at Chandoo.org. I have a few quick announcements about upcoming training programs & other interesting stuff. Just read on
1. VBA Classes – 2nd batch details.
2. Good news for our Indian customers
3. New Excel Formula Crash Course – from tomorrow (17 August)
4. Excel School prices going up!
5. Recommended Live Training – Mike's Power Analyst Bootcamp in US
Continue »
Our Sales Analysis Chart Contest is over and the winner is….,
Oh, wait!
I have decided to award the prize to 2 contestants. Each of them will get an Amazon Kindle Reading Device.
The winners are,
Continue »
Chandoo.org is looking for your ideas!
What would you like to see discussed in future posts at Chandoo.org ?
Continue »