A while ago, our reader Shay emailed me a Sales Funnel chart template.
I had to create a sales funnel for my company and I looked all over the internet to see how to do what I needed to do. I couldn't find anything. I tried your funnel chart as well but because my numbers are all over the place I couldn't get it to work for me.

I get so much information from you that I decided to share this chart with you. I used the shapes drawings to create the funnel graphic and the camera tool to place the values in each shape. I used formulas in the original data so that I will not have to recalculate every month.
I took the liberty of making little changes to Shay's funnel chart template to make it even better. Here is how the funnel looks like.
How to use this Sales Funnel Chart?
Using this funnel chart is child's play when you compare with creating actual funnel of $ 1.371 Bn.
Just download the sales funnel chart template. Go to Data sheet and plug in the numbers. And your funnel is ready.
How is this Funnel Chart setup?
There are 2 components to this funnel.
The blank funnel:
This is nothing but a drawing of funnel made with several cylinders. You can create such a funnel by using drawing tools in Insert ribbon.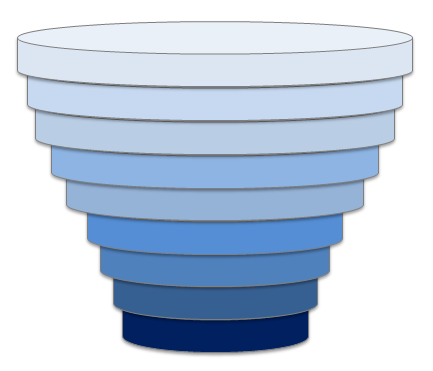 The Numbers:
All the numbers (and text) you see in the chart is made using a bunch of text boxes. Each text box refers to one value in Data sheet. Once all the text boxes are added, we just adjust their formatting and our funnel chart is ready.

Download this Sales Funnel Chart
Click here to download the Excel workbook. The file contains 4 different funnel formats. Just plug in your funnel numbers to go.
Thanks to Shay
Many thanks to Shay for creating this and sharing with us all. If you liked this funnel chart, please say thanks to Shay.
Do you use Funnel Charts?
Back when I was working with an IT services company, sales funnel is a key part of our monthly scorecard. We would use the funnel get a view of our sales process, how it has fared compared to last month, year and whether we are in a good shape to reach our annual goals.
What about you? Do you use funnel charts? Share your experience with us using comments.
More on Sales Analysis & Presentation using Excel