Welcome to the miraculous world
Last night while switching the channels I stopped quite sometime at the TVC/Tele-shopping infomercials in some channels. I thought to myself, why not do some research on this type of marketing. The result is this post.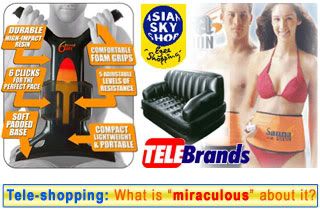 What is tele-shopping all about?
In the words of Mehesh Panna, a country manager at TeleBrands,
"The basic concept of telemarketing is that you should be offering what is not available in the retail market. Why would anybody buy from us, if we were offering what is available in the traditional marketplace? We have to keep coming out with exclusive products practically every second month or so."
The teleshopping story in India dates back to late 1990s. The phenomenon is new to India but it is rampant in other countries like US. By 2000 the market in US is valued at $2bn.
What do they sell?
In one phrase they sell "miraculous products". Be it a fitness tool or breast enhancer, be it a cool pair of glasses or the crystal shree yantra, be it an inflatable sofa or electrostatic cleaner, you get everything that can do magic for you in tele-shopping stores. They have both online as well as offline presence through which you can buy the products.
How big is this?
As far back as in 2001 the teleshopping grossed revenues in the tune of Rs. 50 crores. Today the market size could be anywhere near 300 crores.
How do they sell?


The promotion of the various items sold by these tele-shopping players is done by television infomercials. Typical insert can be for 30 mins featuring yesteryear stars, sportsmen or television artists boasting about the magical features of the products, demonstrations, offer listings etc. This article in Business Line says that, in 2003 last quarter alone the total television time bought by the tele-shopping companies is close to 3000 hrs.
The selling propositions of these products are,
The "magic" factor: each product will offer something magical, like making you look like salman khan, or making your teeth ultra-white or turning your fortunes upside down or something else.
The "free" factor: sample this, TVC-skyshop's Smart Abs worth Rs. 2490 comes with a free Aryu Slim worth 990.
The "demo" factor: Every product being sold is advertised through a combo of demonstrations, testimonials and recommendations. If you are unconscious you might believe that the height of the dame has increased actually.
Are these products reliable?


This aspect of the tele-marketed brands is highly questionable. Some of the products that they sell are medicinal and healthcare related and it is not clear what type of certifications they have. Also majority of the players are not listed and hence do not come under many of the regulators. Recent FDA-Maharashtra crack down on Asian sky only proves the shady nature of this business.
Who are the leading players?
TVC Skyshop, Asian Skyshop, TeleBrands are the leading players.
Sources: ICFAI CMR Case studies, Business Line [1,2,3], RetailBiz
Images: TVC Skyshop, Asian Skyshop, TeleBrands
Hello Awesome...
My name is Chandoo. Thanks for dropping by. My mission is to make you awesome in Excel & your work. I live in Wellington, New Zealand. When I am not F9ing my formulas, I cycle, cook or play lego with my kids. Know more about me.
I hope you enjoyed this article. Visit Excel for Beginner or Advanced Excel pages to learn more or join my online video class to master Excel.
Thank you and see you around.
Related articles: