Hello awesome readers of Chandoo.org,
I wish you a merry Christmas & very happy New Year 2014. May your holidays be filled with joy and warmth. And your new year with lots of hope, fun, strength and awesomeness.
I also want to tell you how thankful & fortunate I feel to have your support in this year. Your desire to learn Excel & become awesome at your work motivates me everyday to learn & share. 2013 is a memorable year in my life because of you. Thank you.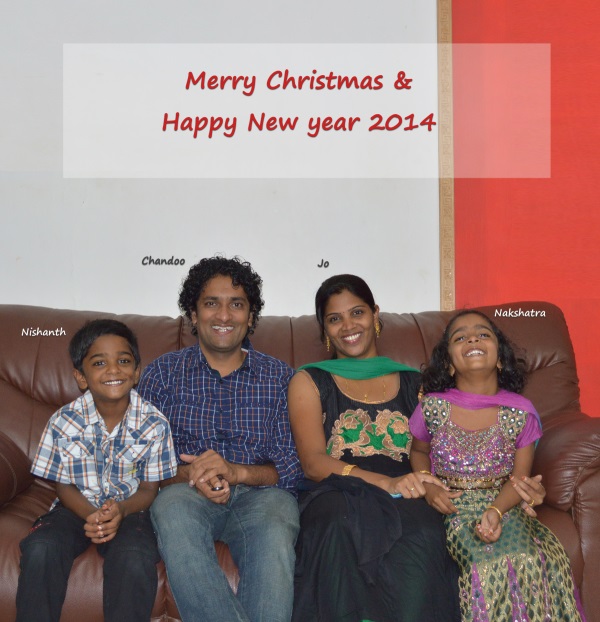 About this year's holiday card
We took this picture about 2 months ago. We all got nicely dressed and were about to leave to a friend's wedding. Then Jo suggested we get some pics while all 4 of us are looking good. And there we go. Click on the picture to enlarge.
Wait… I have a holiday gift for you!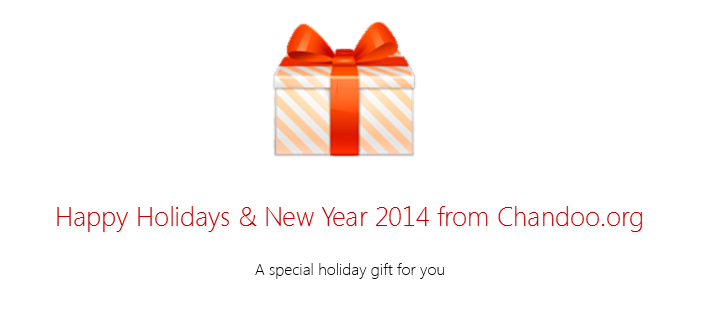 This year I have a special holiday gift for you. I wont be dropping in thru your chimney though. Instead you can pick it up. Just click here.
Holiday Schedule of Chandoo.org
As many of you are going to be away for holidays or annual vacation, we will be having very little activity on Chandoo.org. Schedule for next 2 weeks is,
27 December: Free Excel calendar template for year 2014
30 December: People and websites that helped Chandoo.org in 2013 [ thank you message ]
31 December: Best of Chandoo.org, 2013
2 January: Top 10 things I learned in Excel after using it for a decade
3 January: How Chandoo.org can make you awesome in 2014 [survey]
Our Forum:
Chandoo.org Forums will remain online and probably active during this holiday season. Although most regulars & ninjas would be away, you can post your Excel questions & hopefully someone will help you out.
Our Online Store:
Our online store will remain available and you can continue to purchase your favorite Excel training programs or templates. Please note that there will be 1 day delay in getting your login details for purchases made on Christmas day or New Year Day.
Online Classes, Student Doubts & Questions:
All our online classrooms will be open in this holiday season. You can enjoy the video lessons & ask questions. Please expect 2 day delay for questions posted between 25 December to 1 January.
Emails:
If you send me an email in next 2 weeks, please expect some delay. We are expecting quite a few relatives & guests during this holidays and I am not hoping to spend too much time online. If you do not hear from me, send a reminder after 5th of Jan.
Once again…
On behalf of Chandoo.org family, staff & volunteers, I wish you a merry Christmas & happy New Year 2014. I hope & pray that your life is filled with happiness, wealth & health in this holidays & going forward.
Thank you.