If this Excel problem is a Bollywood (Indian movie) plot, it would go like this:
Situation: Your boss gave you a worksheet. It has a lot of number chunks. And you need to calculate the sum of each chunk. Quickly!
Twist #1: The villain (your boss, who else) has abducted  your spouse. For every extra hour you spend on the problem, your boss will make your spouse go thru one of the boring 97 slide strategy presentations. And his laptop is full of those strategy presentations.
Twist #2: The F1 key on your keyboard is missing.
Twist #3: The coffee machine in your floor is broken again.
Twist #4: And just when you are pressing CTRL+S, the movie steers in to an item song.
—-
Fortunately, no one abducted your spouse. And hopefully the coffee machine is working. But the Excel problem remains unsolved.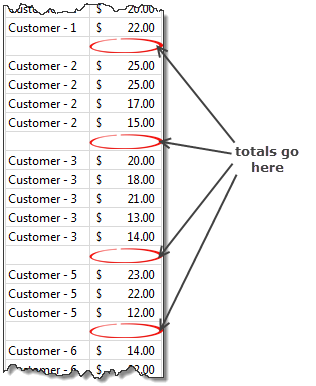 Sporadic totals
This problem is based on a call I received last week from one of our readers in UK. He had a worksheet full of numbers with blank rows between every few numbers. And he wants to calculate the totals of individual chunks of numbers quickly. He cannot write one formula and paste it everywhere as the chunks are not uniformly sized. He cannot write individual formulas as the data is very large.
So what to do?
If we are still in a Bollywood film, you can write all the 10,000 formulas and simultaneously sipping screwdrivers & shimmying to a snazzy song with sexy starlets.
Alas, this is not a movie.
But we still manage to look awesome. Thanks to superb sidekicks – Goto Special & Autosum.
Calculating Sporadic Totals in a second
See this short video to understand how to calculate sporadic totals in a few seconds. With the time saved, you could fix yourself a cocktail (or coffee) and hum a beautiful song.
Watch the video on our YouTube Channel or Facebook Page.
Sporadic Totals – Alternative treatment
It is an awesome co-incidence that both MrExcel (Bill Jelen) and Kevin Lehrbass also published videos about this concept around the same time. MrExcel shows how to use VBA to do this, where as Kevin talks about using formulas. Check out both videos too.
Not enough sporadic data? Try this practice file
If you want to practice this technique, use this Excel file.
Leave the drama to movies, Learn Excel
We all love film drama like blowing up cars, high-speed chases, super-human stunts and spicy songs. But you sure don't want that in your life. So learn Excel. Save time, use that to enjoy the drama elsewhere.
Click here to join our newsletter. Get awesome one step at a time.