Friends and readers of Chandoo.org, my newest download, Excel Dashboard Templates are available for your consideration. Please click here if you are ready to pick them up. Read on to know more.
What are Excel Dashboard Templates?
As the name suggests, these are ready to use Excel templates for creating awesome, informative, easy to understand & quick dashboards with your data. You just enter your data, set up few calculation options, decide how your dashboard should look & bingo, a beautiful & insightful dashboard will be created for you. These dashboards are optimized to look great, convey key information & prompt correct action.
Who should buy these templates?
Analysts, managers, reporting professionals, business owners & executives. These templates are designed to help anyone preparing Excel based dashboards, scorecards or KPI reports.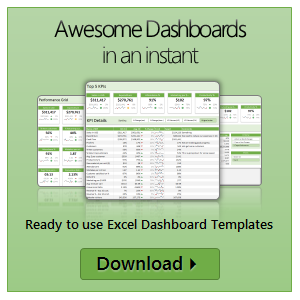 Benefits for you
Design awesome dashboards in minutes, not months: Don't waste hours trying to figure out formulas, chart settings and layouts. Instead focus on what your users want, how your business works and use those insights to tell the 'Excel Dashboard Template' what you want. Save time and look awesome.
Accommodate change elegantly: People change. Businesses change. What your boss wanted last month is no longer what she wants today. So when someone asks you, "hmm, can you show me YTD data instead of last 13 months", or "Can I see top 10 KPIs instead of all", you just smile and tap a few clicks and bingo, the new dashboard will be ready. These templates are designed to handle change (data, requirements, design preferences and insights).
Beautiful & Informative: These templates are designed with a delicate balance of beauty & insight. Everything is seamlessly designed, perfectly aligned and precisely calculated so that you & your boss can focus on the insights & decisions. Time tested and well honored visualization principles & guidelines are observed thru-out the reports.
Built for starters, built for pros: Whether you are just starting with Excel or a seasoned pro, you can find the templates right up your alley. For advanced users, we have many customizations to whet your appetite. Want to build a custom calculation or include another type of sorting, you can do it by tinkering with 'calculations' sheet.
A quick demo of what the templates can do?
I know you are eager to know how the templates look, what they can do and how you can customize them. So I created a short video presentation. Please watch it below.
Purchasing options
The dashboard templates are available in 2 flavors – Regular & Premium.
With regular templates:
You get Excel Dashboard Template that can generate 16 different dashboards
You get a detailed user manual & 6 months of updates (bug-fixes, new version releases with in 6 months of purchase date)
All for $50.
With premium templates:
You get Excel Dashboard Template that can generate 16 different dashboards
You get Simple Dashboard Template that can generate 2 dashboards
You get 5 ready to use Excel Chart templates for your dashboards or reports
You get eBook + audio book on Dashboard design process (24 pages)
You get an eBook on Form controls for interactive dashboards
You get a video guide on Slicers for dashboard reporting (35 mins)
You get a video guide on Conditional formatting for dashboards (50 mins)
You get life time updates of templates (bug fixes, new version releases)
All for $100.
To purchase the templates
Few testimonials about the templates
Although the dashboard templates are launching today (13th November), I have shared them with a few respected bloggers & Microsoft Excel MVPs a week ago to get their feedback. Here is what they say:
Impressive
– I've played with the tool for a day or so now. Like the others have said, it's pretty impressive.
-Jordan Goldmeier, Consultant, Microsoft MVP
The templates are awesome – What do I think? Brilliant! The templates are awesome if you need a quick & easy dashboard. They are a treasure trove of tips & tricks on how to do brilliant things with Excel.
-Mike Alexander, Author, Consultant, Microsoft MVP
Frequently Asked Questions:
Are the files editable?
Yes, they are unlocked and 100% editable. The included user manual explains how you can make many common customizations (changing colors, adjusting currency formats, modifying titles etc.) You can see & change all the calculations & formulas too.
How easy it is to add or change data?
As simple as copy pasting or typing. The template is designed to let you easily add or change data. All the data for dashboard sits in "Data" tab which is accessible from everywhere. Just go to the last row & start typing your numbers. All the calculations will magically change & your dashboards will be ready.
Does it work in Excel 20xx?
These templates are designed to work with Excel 2007, 2010 & 2013. If you are using an older version of Excel (like 2003 or 2000), then you cannot apply this template.
Can I remove portions of a dashboard & add something on my own?
Of course yes. The included user manual explains the process for editing the files. Please take backups to ensure you do not loose functionality.
Is my purchase safe?
Your purchase is 100% safe & secure. We use industry leading card payment solutions like PayPal, 2Checkout, Gumroad & EBS so that you can safely transact.
Quantity Discounts & Licenses?
Each purchase gives you 2 licenses by default – one for office usage and one for personal usage. If need more licenses, please click here.
Go ahead and get your copy of Dashboard Templates,
and become awesome. If you already got them, do let me know what you think in the comments. For the rest of you, click here to pick up the templates.