Today lets take a stroll outside what Excel can do and make something fancy, fun and may be useful.
Nowadays, many newspapers, websites and magazines are featuring info-graphics. An info-graphic is a collection of shiny, colorful & data-full charts (or often pieces of text.) In many of these info-graphics, you can see threaded-donut charts. Not sure what that is..? It is not same as the blasphemy of spoiling a soft, sweet, supple donut with a piece of string. No one should be excused for an offense like that.
What I am talking about is this: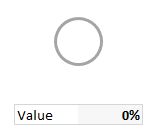 How to create this chart?
A word of caution
Before you smack your lips at the thought of stringy donuts, let me warn you.
Go easy with these charts. Use them sparingly. As a rule a thermo-meter chart would be better (easy to make, takes less space, scalable) for situations like this.
Now that we have learned the ill-effects of donuts, let's make & eat one, cause we are bad-ass like that.
Set up data cells

This is easy. We will use C4 to capture the input for donut size.
In C5, write =1-C4
This will give us the balance portion of donut where thread should appear.
Create a donut chart
Select both cells and insert a donut chart.
This is what we get. Just the donut, no strings attached 🙂
Make 2nd slice of donut transparent
This is simple.
Select the 2nd slice of donut (click on it once, click again)
Fill it with no color, set no line.
Your donut is transparent.
Adding thread to donut – 2 ways to do it
There are many ways to cook a donut.
Method 1: Placing a circle shape behind the donut chart
Select plot area of the donut chart and make it transparent.
Draw a circle shape (Insert ribbon > Shapes > Circle)
Fill with no color, make the outline thick enough
Align centers of chart & circle (select both, use Format ribbon > Align and then Align middle, Align center)
Push the circle behind the chart using "Send to back" from Format ribbon.
For extra safety, group the chart and circle together. This way they will stay together.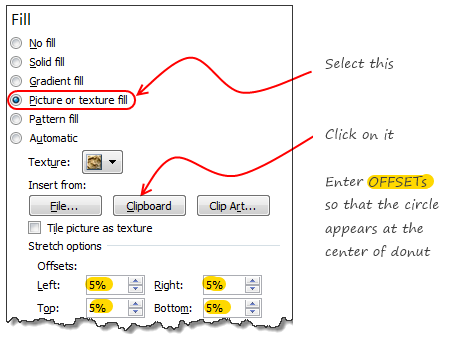 Method 2: Use circle as background image for plot area
This is my favorite.
Draw a circle shape somewhere on your worksheet.
Fill it with no color and make the outline thick enough.
Copy the circle shape (Select it, press CTRL+C)
Select Donut chart's plot area
Press CTRL+1 to format it (alternatively right-click > format plot area)
Follow the steps in image aside.
Download Threaded Donut Chart
I wish we can download donuts, but that day is not here.
Click here to download the donut chart workbook. Examine chart settings to understand this technique better.
Should you use this chart?
We all know that donuts and pies alone cannot make a healthy diet. But once in a while, a donut adds variety. Same goes for charts too.
Go with tried and tested charts like,
Bars & columns
Line charts
Conditional formatting icons
Sparklines
Scatter plot
May be an area chart or two
They are easy to set up, easy to understand, scalable, fit in to any sized report and awesome.
That said, I would certainly experiment with stringy donuts in my future reports to see how they fit. A good example is to use this to depict % completion of a project or goal. Looks slick, easy to read and not too difficult to create.
What other charts work in this situation?
If you have a situation to show x out y is done, then consider these other charts too:
What do you think?
When it comes to donuts, people have strong opinions. What about you? Do you like the stringy donut chart? Are you planning to use it any of your upcoming reports or dashboards? Please tell us using comments.