In the 4th session of Chandoo.org podcast, lets talk about Pie charts.
Pie charts evoke strong opinions among analysts & managers. Some people love them and can't have enough of them in reports. Others despise them and go to any lengths to avoid them. And that is why we are going to talk about them in this session.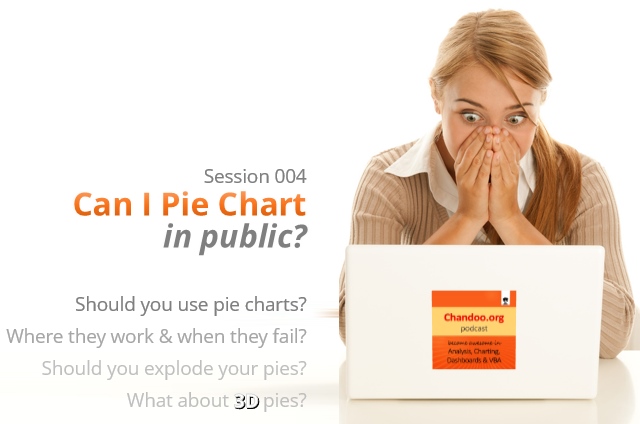 Before we proceed in to the session, let me remind you:
Get new episodes automatically!
That is right. Chandoo.org uses latest & most magical software. That means, whenever I push the publish button, an army of unicorns & fairies carry the sound-waves and bring them right to your mobile phone or tablet. And all you have to do is subscribe.
What is in this session?
This sessions is all about pies, donuts, bars & bubbles. Yummy, I say!
You will learn,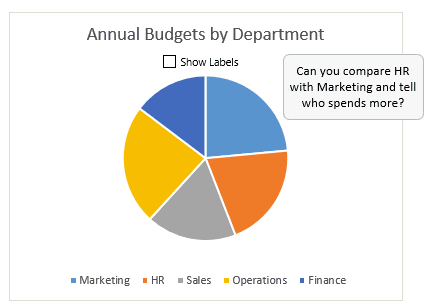 Special, secret transmission from guest stars
What is a pie chart?
Why they work? 2 reasons
Why they don't work ? 4 reasons
Cousins & siblings of Pie charts

Donut charts
Gauge charts (speedometer)
3D pies
Area charts
Bubble charts

4 Situations when making a pie chart is ok
Alternatives to Pie charts
Mistakes you should avoid
About the resources
Conclusions
Go ahead and listen to the show
Podcast: Play in new window | Download
Subscribe: Apple Podcasts | Spotify | RSS
Links & Resources mentioned in this session:
Books mentioned

Articles & Discussion on Pie Charts
Good examples of Pie charts
Bad examples of Pie charts
Debatable examples of Pie charts
Alternatives & Improvements to Pie charts
Extra resource:
Note about book links: The links to various books mentioned in this podcast are affiliate links. It means when you click on them & purchase, good folks at Amazon pay me a few cents. I recommend these books because I genuinely love them. I would have recommended even if there is no benefit to me.
Transcript of this session:
Click here to download the transcript.
If you enjoy the podcast…,
Please do these 2 things. It means a lot me & our community.
Please leave an honest review on iTunes by clicking here.. It will help the show & its rankings immensely. Thank you so much.
Do you use Pie charts?
I do not avoid them completely. Once in a while I like to throw a pie in to my dashboards. They are a great way to visualize data despite the pitfalls.
What about you? Do you use pie charts? Please share your experience using comments.