Winner of Excel Expense Tracker Contest – RomeoG
Remember the excel expense tracker contest we did when our little blog hit 10,000 RSS Subs? Well, the results are out, and the winner is RomeoG. His (or her?) workbook (shown below) received 31 votes. RomeoG will receive the Toshiba net-book (this one).
Thanks everyone for participating & voting.
You can see the winning entry below:
Excel Personal Expense Tracker by Romeog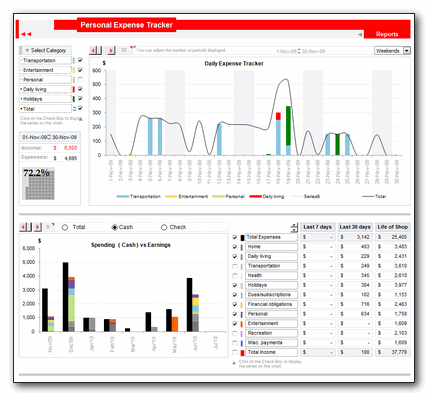 My comments:
Looks awesome, the expense dashboard is quite versatile with ability to view expense data for any month, any number of days etc.
Easy to compare categories and choose which categories to include in output
Simple data entry sheet
Browse all the 7 entries:
Excel Personal Expense Trackers.
Hello Awesome...
My name is Chandoo. Thanks for dropping by. My mission is to make you awesome in Excel & your work. I live in Wellington, New Zealand. When I am not F9ing my formulas, I cycle, cook or play lego with my kids. Know more about me.
I hope you enjoyed this article. Visit Excel for Beginner or Advanced Excel pages to learn more or join my online video class to master Excel.
Thank you and see you around.
Related articles: