Merry Christmas to all the readers of the PHD.
As a festival gift I have changed the design of the blog slightly. Added white background to the posts column and added navigation links on the top of every post. Now you can also add a particular post to del.icio.us for better tagging and search.
While you are celebrating the festival don't forget the most important event in the Indian blogosphere this week, the PHD blogmela. Nominate today. Read this post for rules.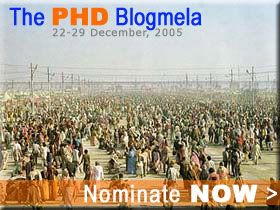 Hello Awesome...
My name is Chandoo. Thanks for dropping by. My mission is to make you awesome in Excel & your work. I live in Wellington, New Zealand. When I am not F9ing my formulas, I cycle, cook or play lego with my kids. Know more about me.
I hope you enjoyed this article. Visit Excel for Beginner or Advanced Excel pages to learn more or join my online video class to master Excel.
Thank you and see you around.
Related articles: