Excel for iPad – Demo & Introduction [video]
Recently Microsoft has launched Excel app for iPad. Being an Excel addict, I could hardly wait to test it. And here is the result.
Excel App for iPad – What is it?
Several years after iPad launch, Microsoft finally created apps for Word, Power Point, One Note & Excel. The Excel app is a miniature version of Excel on your iPad. It is capable of displaying almost all Excel workbooks with ease. You can even create your own workbooks using the app.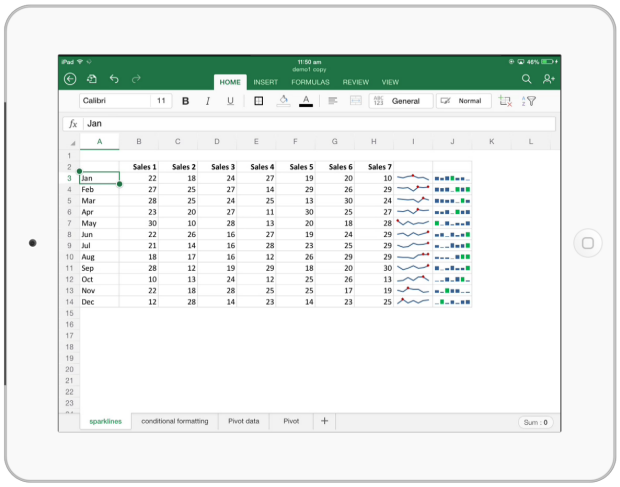 What do you need to use it?
An iPad (duh!)
Optional Microsoft Office 365 subscription (if you want to create or edit files)
Introduction & Demo of Excel for iPad
To help you understand how the Excel for iPad app works and what it can do, I created a short video. Watch it below
(Click here to watch it on our YouTube Channel)
Demo file to play with your Excel iPad app
If you want to see what the app can do, download this demo file:
Open Safari (or your browser) on iPad
Open the file in Excel app when prompted
Are you using Excel app on your iPad? How do you like it?
It has been just a week since I started using Excel app on my (wife's) iPad. I love it so far. It is a quick way to look at a spreadsheet, see what is going on and explore the information. I think creating a workbook on it would take a lot of time (or a good keyboard) though.
What about you? Have you downloaded and tested the app? Please comment your experience.
If you have not downloaded it, time to get it.
If you don't have an iPad, here is a chance to win it.
Hello Awesome...
My name is Chandoo. Thanks for dropping by. My mission is to make you awesome in Excel & your work. I live in Wellington, New Zealand. When I am not F9ing my formulas, I cycle, cook or play lego with my kids. Know more about me.
I hope you enjoyed this article. Visit Excel for Beginner or Advanced Excel pages to learn more or join my online video class to master Excel.
Thank you and see you around.
Related articles: