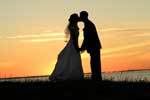 There are several charting principles. But the most effective of them all is "KISS".
By kiss, I don't suggest that you kiss the chart designer (although it might work). By kiss, I mean "Keep It Simple, Stupid"
Today I want to feature a very simple and effective chart from Wall Street Journal. It tells you the story of 11 US presidents, all the way from Truman to Bush and how their approval ratings were during the presidency.
OK, ok, show me the chart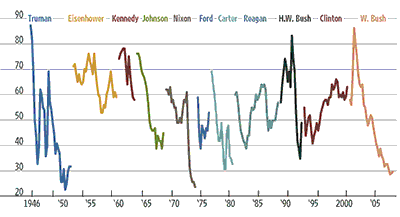 Approval ratings of Past U.S. Presidents : From Truman to Bush
Well, so what is great about this chart?
First look at the amount of data, 11 US presidents, approval ratings from almost 60 years, someone else might have gone nuts and created huge amount of overlapping balls or animated dots or something else. But not the wise folks at WSJ. They chose to present the data in a simple yet very effective line chart. They have colored each president uniquely and added exact amount of grid lines and labels.
Aha, how can this help me?
Simple, "keep your charts simple". No matter how complex your data is or how lengthy your formulas are, when it comes to presenting the results, simple charts and visualizations always outdo the more complicated and elaborated charts.
Hmm, Fair enough, why don't you tell me some guidelines then?
Prefer bar, column, line and XY scatter charts
Keep your chart design minimalistic. Avoid un-necessary labels, grid lines and axis stuff
Pick-up colors that go along with each other. Simple rule: either pick shades of same color or totally different colors that contrast.
If you plan to highlight something, make it really stand out. I mean REALLY.
None of these rules are rocket science. They are common sense. But it is very easy to loose common sense in the plethora of functionality offered by the chart designing software (excel or something else).
Happy weekend, and yeah if you are still kissing your chart designer, may be its time you subscribed to our RSS Feed or E-Mail updates.