Welcome readers from Lifehacker and Delicious
Posted on August 2nd, 2008 in
blogging
- 0 comments
A big hello to readers from Lifehacker, Delicious and countless other sites. Thanks for making the Excel can be exciting – 15 fun things you can do under 5 seconds post so popular. I am overwhelmed by the visits, comments and love shown.
A quick introduction to this blog and what you can find here:
Pointy Haired Dilbert – Chandoo.org is a site about Excel tips, Technology tidbits and Business insights.
The blog has around 620 articles in topics like excel, technology, advertising, business, MBA life in India and photography.
Every weekday I post 1-2 articles that can make you more productive, provide you interesting bite sized info you can use.
Join the 700+ reader community by subscribing to RSS feed. Or get updates through email, every weekday. Get in touch with me: chandoo [dot] d [at] gmail [dot] com. Or know more.
Read some of the most popular posts here to get started:
Be an Excel Conditional Formatting Rock Star
11 very useful excel keyboard shortcuts
73 Free Designer Quality Excel Chart Templates
Tracking mutual fund / Stock portfolios using Excel sheets
Become a Dashboard Ninja with Bullet Graphs
Getting RSS feeds to your Excel Sheet – Learn how to
How to count words in a cell using excel
Do you want to be awesome in Excel?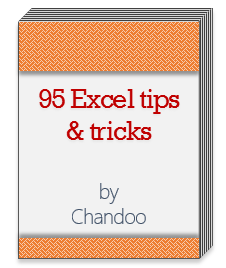 Here is a smart way to become awesome in Excel. Just signup for my Excel newsletter. Every week you will receive an Excel tip, tutorial, template or example delivered to your inbox. What more, as a joining bonus, I am giving away a 25 page eBook containing 95 Excel tips & tricks. Please sign-up below:
Your email address is safe with us. Our policies