Shuffle a list of numbers / items in excel spreadsheet
Here is a quick Monday tip for data junkies.
If you want to shuffle a list of numbers or cells in excel in random order you can do that with "data > sort" menu option of excel.
First insert a column next to the list you want to shuffle and enter random numbers in each cell in using =rand(). See below:
Now select the entire list and sort it by the new column with random numbers. (Menu > data > sort)
If you want a fresh set of shuffled list, just hit f9 (recalculates all formulas) and sort again
Like this? Also learn how to sort horizontally, fill only weekdays while auto-filling dates
Do you want to be awesome in Excel?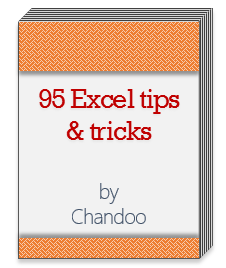 Here is a smart way to become awesome in Excel. Just signup for my Excel newsletter. Every week you will receive an Excel tip, tutorial, template or example delivered to your inbox. What more, as a joining bonus, I am giving away a 25 page eBook containing 95 Excel tips & tricks. Please sign-up below:
Your email address is safe with us. Our policies