Friends & Readers of Chandoo.org, I am excited to announce that Excel School, my online excel & dashboard training program is now available for your consideration. Please take a minute to read this post.

What is Excel School & Who Should join?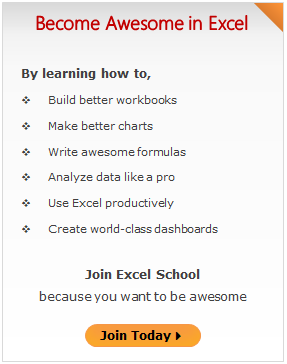 Excel School an online Excel & Dashboards training program. It is designed to make you awesome by teaching formulas, charting, formatting, data analysis & dashboards.
If you use Excel everyday and find my site useful & helpful, then this is a perfect program for you.
I have trained more than 700 students in this program so far and many of them have benefited tremendously. I am hoping you too will benefit from Excel School.
If you want to join Excel School, click here.
What topics are covered in Excel School?
Excel school topics revolve around these 6 themes,
Building better workbooks
Making better charts
Writing awesome formulas
Analyzing data like a pro
Using Excel productively
and Creating world-class dashboards
Please visit Excel school lesson plan page for a detailed lesson plan. Also Download Excel School brochure to see the topics, methodology etc.
Can you tell me more about the Dashboards Module?
With this edition of Excel School, I am adding a new dashboards module. This module teaches you how to design & construct effective dashboards using MS Excel. We will be learning:
Dashboard definition, Process for making dashboards
Making a business dashboard (image)
Making a website dashboard (image)
Making a KPI dashboard (image)
Making a sales dashboard (image)
Dashboard Design tips & tricks
Bonus interviews with these dashboard experts


Robert Mundigl (clearlyandsimply.com)
Daniel Ferry (excelhero.com)
Ian Huitson (our own guest author, Hui)
Hubert Lee (dashboardspy.com)
Jorge Camoes (excelcharts.com)
The lessons 1,2,3 & 6 are already available for viewing. Remaining lessons will be available to you in Excel School in the next 4 weeks.
With each type of dashboard, you will get a complete, unlocked dashboard workbook so that you can implement these techniques at work.
How much is Excel School & How to join?
Excel School comes in 3 flavors.
Dashboards Option – $197 per student
Includes all Excel lessons + Dashboards lessons, you can download HD videos of lessons for viewing later.
Download Option – $97 per student
Includes only Excel lessons, you can download HD videos of lessons for viewing later
Online Option – $67 per student
Includes only Excel lessons, you can watch lessons online.
Please visit Excel School page to review these 3 options & sign-up.
Discounts
While Excel School is a great value for money training, I do have some attractive discounts, if you are an existing customer of Chandoo.org or planning to enroll your entire team in to Excel School.
25% Team discount if you enroll 3 or more people in one go.
25% Student discount if you are a student. To be eligible, you need to send me an email from your college mail-id.
25% discount for all customers of PM Templates and Financial Modeling School
$37 Discount on Dashboards option for people who purchased Excel Dashboard Training kit. That is right, you get full refund by joining Excel School (why? because, I am awesome like that)
I will email instructions to individual customer groups by today. You can alternatively send me an email to find more details.
More Information on Excel School
I have made a whole bunch of pages explaining various things about Excel School so that you can have awesome experience while enrolling. Please check out these links.
Questions & Doubts?
If you have any questions or doubts, feel free to leave a comment or send me an email. I will be glad to help you out.