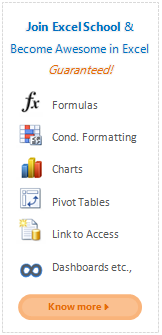 Some of you know that I run an online Excel training program – Excel School. This program has 24 hours of detailed, step-by-step, fun & very useful Excel training, all available online so that you can view & learn at your own pace.
Creating this program has been the best thing that happened in my life. This program has been received very well by Excel users all over the world. Since we launched in Jan 2010, More than 2,500 people have joined Excel School and have become awesome in Excel. Personally, I have learned so much more about Excel, teaching & running business by conducting this program in last 2 years.
You too can become awesome in Excel by joining us. Please click here.
What do our students say about Excel School?
I have asked our students & recognized Excel personalities to review & rate our program. You can read a few of those reviews here:
Here is what David says,

Chandoo brings out innovative ways of using Excel formulas.  Some are functions I've never heard of, and some are formulas I thought I knew.  Chandoo shows new ways to use the functions.  The lessons are very informative and it is great to have the spreadsheet examples.  Being able to download the lessons is great since I will no doubt forget a few things along the way.
Here is what Jesse says,

The downloadable materials are VERY helpful, but even better combined with the very excellent instruction–it's all the best!
Reghunath says,

Fabulous teaching technique. Your ability to teach basics with simple language is truly appreciable.
Here is what Daniel Ferry from Excelhero.com says,

If you want to develop an amazingly strong skill set in Excel, Excel School is the right place. The online school is first rate, as are the downloadable workbooks and videos. It is obvious from the moment you first log on that Chandoo has worked endlessly for over a year now, designing the perfect curriculum and developing lessons, with the business user in mind.
Holiday Special – 20% Discount on Excel School Fees
This holidays, I want to spread some love. So we are giving 20% discount on course fees. Please use the discount code LETSGOEXCEL to claim it during checkout.
Note: this discount is valid until 5th of Jan, 2012 only. So hurry up.
How to Join Excel School?
Just like everything else here, we have a 5 step tutorial on this too 😉
Know about the course & what you get.
Decide which option to go for & Click on the green sign-up button.
Pay course fees (using your credit card, eCheck, PayPal accounts)
For our Indian students, we have credit, debit cards, net banking, check, bank transfer options. Click here.
Start learning & Become Awesome in Excel
That is all.
PS: If you want to learn Excel, but not pay, check out these 80 links. Tons of information, examples & awesome tricks to be learned.
PPS: Go ahead and enjoy the discount. Because you want to become awesome in Excel. Click here.