Quick Summary:
Recently I had the opportunity to try
Excel Everest
, an excel spreadsheet that teaches you how to use excel. In this post I tell you why it is a great product to learn excel. Plus, you can get it for 20% off if you use the discount code
chandoo
.
This is how Excel Everest Looks
view large
What if we can make an excel workbook that can teach us excel? Wouldn't that be cool..?
It was a question that motivated Sean Duffy, a former Google employee and his friends to design Excel Everest – an excel spreadsheet built to teach you, … wait for it … , Excel.
Sean wrote to me a few weeks back and invited me to test his beautiful product. I have played with Excel Everest and I found it to be quite an interesting tool to learn Excel, so much that I wanted to share with you about this.
What is Excel Everest?
Excel Everest is an excel workbook designed to teach you excel. It has 41 topics and has 155 exercises, 339 buttons, and 87 embedded videos. It is a text book, problem set, video library all rolled nicely in to one excel file. It teaches you various excel topics, one at a time and gives you some problems to work on. Once you finish the problems, Excel Everest even grades you automatically. Pretty cool, eh?
See this short demo to understand how Excel Everest's automatic grading works: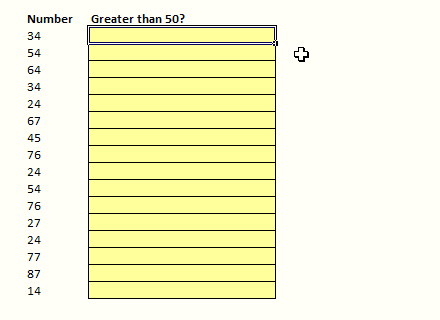 and here is a superb youtube video explaining Excel Everest:

Who is this for and What can you learn from Excel Everest?
Excel Everest is designed to help beginners and not-so-regular users of excel learn various features without getting lost. It teaches the following topics very well:
Excel basics: What is excel, how to format data, using paste special, sorting and filtering data, adding / removing / hiding rows or columns, working with shapes
Formulas: Formula basics, text formulas, IF formula, VLOOKUP formula, basic math formulas, statistical formulas (average etc.)
Charts & Pivot Tables: Understanding numbers and answering questions.
Tips to make your life easy with Excel: Removing duplicates, using keyboard shortcuts, introductory macros, printing excel sheets
Each topic is explained in a separate worksheet with text, images, videos (youtube videos embedded in excel) and various examples.
See an example page – Learning Basic Mathematical Formulas using Excel Everest
How much is it?
Excel Everest is priced at $34.95.
But here is the good news. When I told Sean that I would love to write a review of his product, he was kind enough to give readers of Chandoo.org a discount of 20%. So, you will actually pay just $28 for this when you use the discount code "chandoo".
What is my opinion about Excel Everest?
Excel Everest is a fantastic way to learn excel if you are starting out. It is beautifully designed with lots of clear, simple explanations for various everyday excel features. I especially liked,
How the file is structured and how each topic is flagged as easy / medium or hard (see below).

Exercises and automated grading. There are questions / short quizzes after each topic and as soon as you enter you will graded.
You can keep track of your progress and see how well you have scored across various topics / difficulty areas
That said, this is not the product if you are already familiar with various excel features and use them decently. For the rest of you, this can be an extremely fun way to learn excel all the while using it.
I recommend getting a copy of Excel Everest if you are new to Excel or need a thorough introduction to various features in Excel. Make sure you use the discount code chandoo to get 20% off the final price.
Do you have any questions about Excel Everest?
I have been using Excel Everest for last few weeks, so I kind of know what it does best and how it works. If you have any questions about it, ask them thru comments. I can answer them.
Disclosure: I receive small commission whenever you buy a copy of Excel Everest with discount code "chandoo". But I am sure you will derive more benefit out of this than Sean or I will make out of the sale.