In the 21st session of Chandoo.org podcast, lets compare lists. Quickly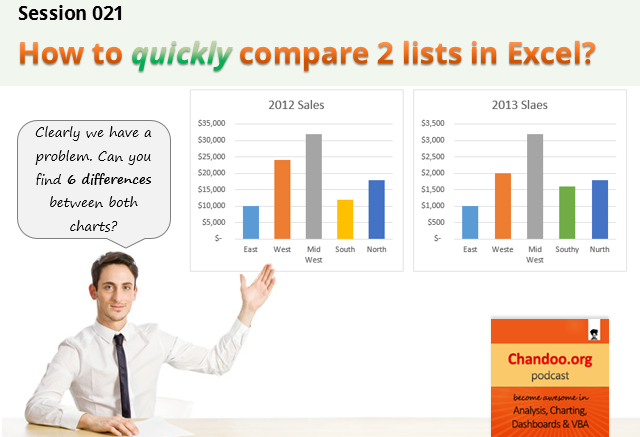 What is in this session?
Comparing things is a favorite pastime for analysts all over the world. Sadly, it is also an area where we waste hours. So in this episode, I share my top secret comparison techniques to save you time.
Note: This is a short format podcast. That means you spend less time listening to it, while becoming more awesome.
In this podcast, you will learn,
Why I sound like I am on a secret mission at a mafia hideout.
5 ways to compare 2 lists

Manual method
Conditional Formatting
Row Differences
LOOKUP formulas
COUNTIF formulas

Bonus tip: Removing duplicates
Conclusions
Listen to this session
Podcast: Play in new window | Download
Subscribe: Apple Podcasts | Spotify | RSS
Links & Resources mentioned in this session:
Please go thru below links for example workbooks on each type of comparison.
Transcript of this session:
Download this podcast transcript [PDF].
How do you compare? Tell us quickly
So how do you compare? My favorite methods are conditional formatting & COUNTIFS formulas. What about you? Please share your tips using comments.