In the 13th session of Chandoo.org podcast, lets turn our attention to on-going FIFA worldcup and ask an important question.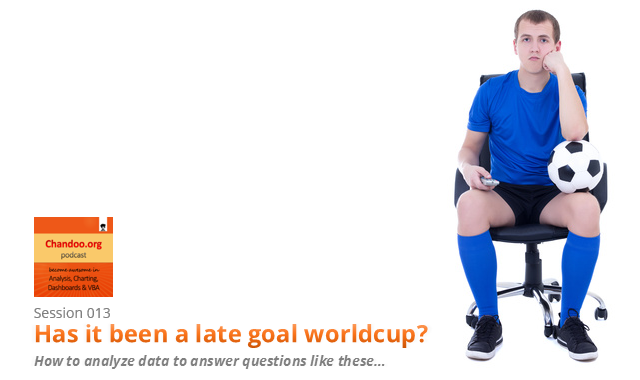 What is in this session?
A week ago, we discussed "Has it been a late goal FIFA worldcup?" and used various charts & analysis techniques to answer the question. In podcast, lets tackle the same problem, understand various approaches to answer questions like these & shares some lessons for all the analysts.
In this podcast, you will learn,
A familiar problem in many situations (including sports)
First rule of analysis – Define context
Various attempts to understand goal timing data of FIFA worldcups
Lessons for analysts
Bonus tip: Friday the 13th calculations using Excel
Go ahead and listen to the show
Podcast: Play in new window | Download
Subscribe: Apple Podcasts | Spotify | RSS
Links & Resources mentioned in this session:
About data analysis & charting:
Friday the 13th:
Transcript of this session:
Download this podcast transcript [PDF].
What kind of questions do you face in business analysis? How do you try to answer them?
While our example is on football, the same kind of questions are asked everywhere. Many businesses, non-profits, institutions & individuals ask these questions every day and struggle to find right answers.
So what about you? What kind of interesting questions do you face in business analysis? And how do you answer them? Please share your experiences in comments area.
Subscribe to Chandoo.org Podcast