Hello awesome folks. It has been a while since I posted on Chandoo.org. And there is a reason for that. As you may know, recently (on October 12th) a category 3 cyclone (hurricane) passed thru our city devastating trees, power lines, cellular towers, old houses & roads on its way. This means our family was left without power, water, telephone and internet for almost 10 days. Early last week we got power & water. Then slowly the internet started working too. (more on this here)
I am swimming thru heaps of email & backlog work. Thanks to everyone who emailed me with kind thoughts, prayers and love. I can't tell you how thankful I am for having you in my life.
I am really glad to be back online, sharing my stories, knowledge & tips with you all.
As it has been a while, I want to share a few quick announcements first.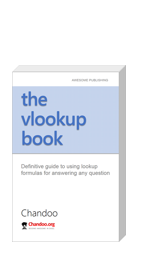 #1 – The VLOOKUP Book Anniversary
Around this time last year, I published my first book – The VLOOKUP Book. As the name suggests, it's a comprehensive guide to Excel lookup formulas. We sold more than 1300 copies of this book in first year. And the feedback has been overwhelmingly positive, with many 5* ratings on Amazon.
To celebrate the first anniversary of this book, I am running a VLOOKUP Sale on 30th & 31st of this month (Thursday & Friday). In this 2 day sale:
You get 50% discount on The VLOOKUP Book
You get 25% discount on The VLOOKUP Book + Video combo pack.
Remember, the sale starts on 30th October morning (Japan time) and ends on 31st October midnight (Pacific time)
To avail this sale, just go to The VLOOKUP Book page.
#2 – Introducing ready to use Dashboard Templates from Chandoo.org
This is the top most request from our customers & readers. A ready to use dashboard template that is easy, intuitive & awesome. So during the cyclone inflicted downtime, I created a set of ready to use dashboard templates. I am still polishing the product. This will launched on 13th of November (Thursday).
This is how our templates can help you:
Type your data and generate beautiful dashboards. That simple.
Generate 9 different dashboards from one set of data. Click & choose what you want.
Customize with ease. Change currency codes, financial year starts etc.
Build your own calculations and the template displays them just as beautifully.
Ready to show, ready to print, ready to publish – All in one awesome bundle.
Save time & worry about things that matter.
Here is a sneak-peek (click on it to enlarge):
#3 – 50 Ways to Analyze Data – Coming in Jan 2015
Last month I asked you to tell me the challenges you face when analyzing data. Based on all your feedback, I am designing an analytics course to help you most. It is 15% done. I will be completing rest of the course development during November & December.

So the 50 ways to analyze your data course will be launched on 21st of January 2015 (Wednesday).
Click here to sign up for the waiting list of this course.
I will email you details about the course as they get ready.
So that is all for now. Tomorrow, I will come back with an awesome Excel tip. Until then…