Pin Frequently Used Documents to File Menu to Save Time
Posted on September 4th, 2009 in
Learn Excel
- 2 comments
Here is a quick productivity tip if you work with same set of excel (or word or powerpoint) documents everyday. Just pin the documents to recent documents list in the Office Menu in MS Office 2007.
See this:

More excel 2007 productivity tips & double click tricks.
Do you want to be awesome in Excel?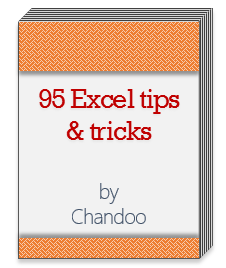 Here is a smart way to become awesome in Excel. Just signup for my Excel newsletter. Every week you will receive an Excel tip, tutorial, template or example delivered to your inbox. What more, as a joining bonus, I am giving away a 25 page eBook containing 95 Excel tips & tricks. Please sign-up below:
Your email address is safe with us. Our policies
Written by Chandoo
Tags: excel 2007, file menu, Learn Excel, microsoft, office, Office Tips, productivity, quick tip, tips, tricks, using excel
Home: Chandoo.org Main Page
? Doubt: Ask an Excel Question