Financial freedom, or not having to work for someone is the ultimate dream for anyone wearing an access card and refreshing his/her mailbox every five minutes. Just incase you are one of those who never realized the importance of planning early for the freedom, here is a chart to help you appreciate that need.
Download the retirement savings excel and play around
Do you want to be awesome in Excel?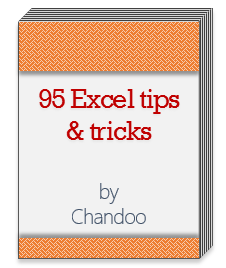 Here is a smart way to become awesome in Excel. Just signup for my Excel newsletter. Every week you will receive an Excel tip, tutorial, template or example delivered to your inbox. What more, as a joining bonus, I am giving away a 25 page eBook containing 95 Excel tips & tricks. Please sign-up below:
Your email address is safe with us. Our policies