The lastmile of online shopping
The way Indian online shopping is shaping up only suggests that it will take several years before the market matures… an incident to back my argument.
A couple of days ago I have ordered an iPodShuffle from one of the leading shopping sites in India. After a day I got an email from them saying that since i made the transaction on credit card and since the amount is not small, I have to send a fax of my credit card Xerox copy, approval letter, last months bill etc. I felt very uncomfortable doing this. So I sent them a mail asking if they can give me a phone number of the sales executive so that I can speak to him to get some clarity of the whole issue.
Next day the sales executive called me up and tried to convince me that 'since credit card frauds are happening rampantly they started using this method in case of large transactions' He also told me that 'I can send the scanned information through email also'
This reminded me of my x-factor topic services marketing course (x-factor = something that cannot be explained by logic) My topic was on 'how call center people call you and ask you your DOB / Credit card number / passwords to verify that you are you, but never give you an opportunity to identify whether they are they'
The shopping site people are afraid that I may not be a genuine credit card holder. The problem is "how can I be sure that the information sent by me over email/fax is not misused. Or for that matter, how can I be sure that it is the shopping site people who are asking me for this details, it could be a third party or someone else?" I cancelled the order because I wasn't feeling secure to send the details over mail.
What could be done?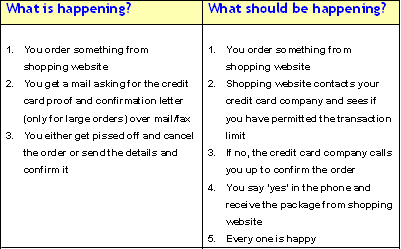 Hello Awesome...
My name is Chandoo. Thanks for dropping by. My mission is to make you awesome in Excel & your work. I live in Wellington, New Zealand. When I am not F9ing my formulas, I cycle, cook or play lego with my kids. Know more about me.
I hope you enjoyed this article. Visit Excel for Beginner or Advanced Excel pages to learn more or join my online video class to master Excel.
Thank you and see you around.
Related articles: