How to get VLOOKUP + 1 value?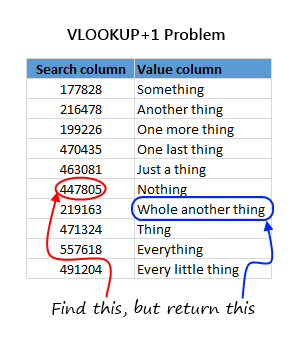 Here is a question someone asked me in a class recently.
I know how to use VLOOKUP to find a value based on search term. But I have a slight variation to it. I need to extract value below the cell VLOOKUP finds.
This is simpler than it sounds.
We can use INDEX + MATCH formulas to do this.
The syntax is like below:
=INDEX( value column, MATCH (search what, search column, 0) + 1 )
Why it works?
MATCH formula finds the position of what you are searching. By adding 1 to it and extracting the corresponding "values column", we can get VLOOKUP + 1 value.
Homework for you
If you think finding VLOOKUP+1 is easy then I have a challenge for you.
Find the last match. Lets say in a table you have multiple items matching lookup value. How would you find the last item. Assume what you are finding is in A1, list is in C1:D20 and we want the value in 2nd column.
Go ahead and post your answers in comments section.
Hello Awesome...
My name is Chandoo. Thanks for dropping by. My mission is to make you awesome in Excel & your work. I live in Wellington, New Zealand. When I am not F9ing my formulas, I cycle, cook or play lego with my kids. Know more about me.
I hope you enjoyed this article. Visit Excel for Beginner or Advanced Excel pages to learn more or join my online video class to master Excel.
Thank you and see you around.
Related articles: