Hi there,
How was your weekend? We had lovely weather. So spent most of the time playing with kids, running some errands & relaxing.
I just want to give you a quick update about our Financial Modeling School. We will be hiking course fees for this program starting tomorrow midnight (Tuesday, 17 July – 11:50 Pacific Time).
If you have been considering to join this program, please go ahead and enroll now to save money.
Click here for course details & Sign-up instructions.
New Fee Details
See this image to understand how the course fee is going to change.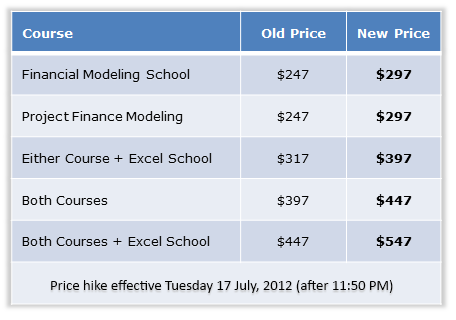 Note: We will be adding a new module on cash flow modeling to the Financial & Project Finance programs after fee hike. All existing students will receive this module without any extra charges.