How many values are common in 2 lists? [homework]
Here is a formula challenge for you.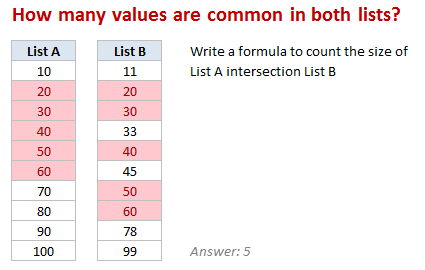 Lets say we have 2 lists of values in A1:A10 & B1:B10
Now, how do you find the number of common values in both lists?
We just want the count, not list of common values it self.
Go ahead and figure out the formula and post your answers here.
Bonus challenges:
Write the formula if 2 lists have non-numeric values (text for example) ?
Write the formula if 2 lists are not of same size (A1:A10 and B1:B15 for example) ?
Write the formula if we have 3 lists (all same size, numeric values) ?
Go ahead and share your answers. I am eager to see what you will come up with.
PS: For some inspiration, check out this forum discussion.
PPS: If you just want to highlight the common values, see this.
Hello Awesome...
My name is Chandoo. Thanks for dropping by. My mission is to make you awesome in Excel & your work. I live in Wellington, New Zealand. When I am not F9ing my formulas, I cycle, cook or play lego with my kids. Know more about me.
I hope you enjoyed this article. Visit Excel for Beginner or Advanced Excel pages to learn more or join my online video class to master Excel.
Thank you and see you around.
Related articles: