Often we have 2 workbooks with same data structure but different data. We want to compare both and see how they differ. Lets talk about view side by side mode in Excel and how we can use it in situations like these.
Example:
Lets say we have 2 files – this_month.xls and last_month.xls both with our employee productivity data. We want to see both of them together to understand which employees did better in both months. Like this: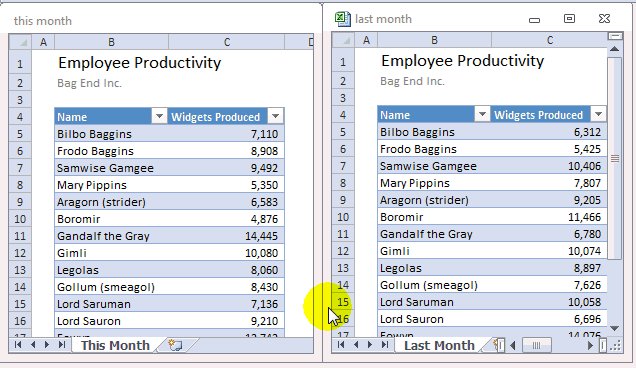 To do this:
Open both files
Go to View ribbon
Turn on "View side by side" mode.
If promoted, select the other file.
But how to compare data in 2 different sheets in same file?
Sometimes, we may have 2 sheets, say this_month & last_month in the workbook and we want to compare both. Like this:
In such cases:
Open the file
Go to View ribbon
Click on new window. This opens the same file in one more Excel window.
Enable View side by side mode.
Select sheet 1 in first window, sheet 2 in second window.
Compare and be merry!
Do you compare files like this?
Nowadays, I rarely use this mode of comparison as I never have such data. But back when I was working as a Business Analyst, I used to compare 2 files (or sheets) using this method. It is quick and answers any ad-hoc questions.
What about you? Do you use view side by side mode & compare files? Share your experience & tips using comments.
More on Comparison using Excel
If you deal with similar data & compare it often, read these articles to learn more: