Warning: Post high on images. May take time to load. But worth a dekkho.

Yesterday's diwali was a totally different experience for me. It is simply great.
Let me walk you through the night using a couple of images and text.
The celebrations started with Rangoli contests held in the mess. Some 5-6 rangolis were prepared by 40 odd people. The contest started at 5 pm and went on till 7 pm. Look at some of the pics.
Shadab & Mehra along with indorangoli.
Another rangoli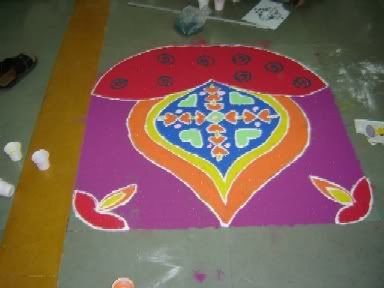 After the rangloi, the pooja started at 7:10 in B-block common room. It was a very good experience. Yesterday was the first time I had prayed to god in IIM Indore. See some pooja pictures too.
Mata and her blessings
Junta geared up for pooja
After the pooja and rangoli the obvious thing started. You guessed it right. I am talking about crackers. Cul-com made sure that we have loads of crackers to burn. There were so many of them that most of us were shocked to see such inventory for one night.
one of the best pic of the night undoubtedly is,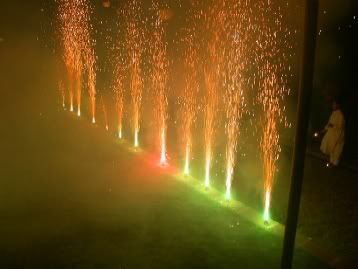 The crackers went on till 9:40 types. Then junta moved into mess for the special dinner. We have booked 'Mashal' a restaurant in city for the night's feast. The best part of the dinner is ice cream. Junta (atleast most of us) had something like 300gms of ice cream each. Hmm… My mouth is watering at the mere mention of it.
After that we had tambola running till 12. Me had to comeback to my room because of a marketing project due today.
When we have celebrations like this, then people recognize the rigor we have here. For most us last night literally ran into today morning. I was awake till 6:20 along with my group members working on the con-b ppt. :D, Many people say, Work hard, Party Harder. But last night it was Party hard, Work harder.
You can see the other diwali pics here.
Chalo, me out to catch a nap.
Hello Awesome...
My name is Chandoo. Thanks for dropping by. My mission is to make you awesome in Excel & your work. I live in Wellington, New Zealand. When I am not F9ing my formulas, I cycle, cook or play lego with my kids. Know more about me.
I hope you enjoyed this article. Visit Excel for Beginner or Advanced Excel pages to learn more or join my online video class to master Excel.
Thank you and see you around.
Related articles: